Country's 13th Five-Year Plan advances a broad goal to phase down coal and expand renewable energy.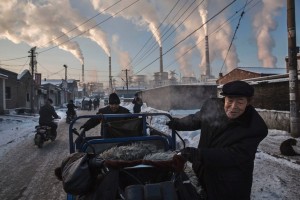 The world's largest greenhouse-gas emitter is turning a corner on climate change. China's 13th Five-Year Plan reinforces the country's seismic shift away from dirty coal, and many specialists now think that Chinese emissions are already nearing their peak, or perhaps have even levelled off — well ahead of schedule.
Approved on 16 March, the plan establishes an overarching strategy for economic development up to 2020, while setting basic goals and requirements for areas such as energy and the environment. In particular, the document extends and strengthens mandatory targets put in place over the past decade to reduce energy use, curb air pollution and promote the development of low-carbon sources such as wind, solar and nuclear. These efforts are already having an impact: China's coal consumption declined by an estimated 3.7% in 2015, according to statistics released in February by the Chinese government.
Such a decrease is unprecedented, says Barbara Finamore, Asia director for the Natural Resources Defense Council, an environmental-advocacy group headquartered in New York City. "I think it's catching everyone by surprise."
The new plan calls for an 18% reduction in carbon intensity, which is a measure of how much carbon dioxide is emitted per unit of gross domestic product. That is slightly more aggressive than the 17% target in the previous five-year plan, made in 2011. And for the first time, the latest plan includes a goal to limit the country's total energy consumption. China consumed energy equivalent to 4.3 billion tonnes of coal in 2015, and the plan would seek to cap that figure at the equivalent of 5 billion tonnes by 2020.
Nonetheless, the document does not specify how China will achieve its targets. "The point of this is to set the tone and direction," says Ranping Song, who handles climate policy in developing countries for the World Resources Institute (WRI), an environmental think tank in Washington DC. Song expects China to release detailed plans in coming months about how various sectors of its economy will meet the new commitments.
As it stands, China is on track to achieve — and probably exceed — its previous targets. For instance, China announced in 2014 that it would halt its dramatic rise in coal use by 2020, and the latest data suggest that the country may have already accomplished that goal. China also leads the world in the deployment of renewable energy; in 2015, the country invested some US$110 billion — twice as much as the United States, according to the WRI.
Some fear that coal consumption could once again spike, along with carbon emissions, if China's slowing economy revives, but a London School of Economics study published on 16 March1 suggests that this is unlikely.
"If emissions do grow, that growth is likely to be slow," says Fergus Green, a policy analyst who co-authored the study with economist Nicholas Stern. Green says that the Chinese government's latest energy statistics suggest that emissions may have dropped in 2015 — which leaves open the possibility that China's emissions have already peaked.
With coal on the wane, Finamore says that one major question is whether China can rein in oil use in the growing transportation sector — an area in which the government has been less aggressive to date. Nonetheless, she says, strict new requirements on air pollution, driven by rising anger among Chinese citizens, are pushing China in the right direction.
"I'm of the opinion that this is a trend that will continue," Finamore says. "This is the new normal."
Related links
Related links
Related links in Nature Research
Related external links
About this article
Cite this article
Tollefson, J. China's carbon emissions could peak sooner than forecast. Nature 531, 425 (2016). https://doi.org/10.1038/531425a
Published:

Issue Date:

DOI: https://doi.org/10.1038/531425a