A peer-to-peer website aims to disrupt the author-services industry.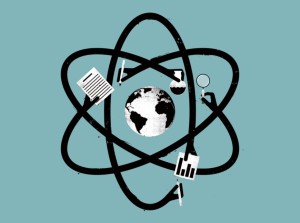 As Sebastian Eggert prepared to submit a conference article, he realized he had a problem: neither he nor his research adviser were native English speakers, and neither had much experience in writing and publishing research papers. But Eggert, a master's student in mechanical engineering at the Technical University of Munich in Germany, had heard of a website where he could purchase editing services from an expert: an online marketplace called Peerwith.
Launched in October 2015 and still in beta testing, Peerwith is a forum through which researchers can find and negotiate with service providers such as editors, translators, statisticians and illustrators to improve their research papers. The site boasts "hundreds of experts", most of them with expertise in the social sciences and humanities. Users post a job request detailing the subject area of the document, its length and the desired turnaround time. Experts then bid for the job, and both experts and users rate each other afterwards. Peerwith's business model is akin to freelance marketplaces such as Upwork, says co-founder Joris van Rossum, who left the journal publisher Elsevier to start his firm, except with a strictly academic focus.
A market for author services on research papers already exists; van Rossum estimates it at hundreds of million of dollars annually. It includes both large editing companies such as American Journal Experts (AJE), Edanz, Editage and Macmillan Science Communication (MSC, which is owned by Nature's parent company), and freelancers. But a peer-to-peer online marketplace, van Rossum says, makes services more affordable by cutting out the middleman and efficiently matching buyers and sellers. (Peerwith receives a cut of 10–20% for each transaction; the other firms would not comment on their margins). At the site, authors can review the experts who bid for work to identify the best fit, and can check to see how others have rated them.
Val Kidd, an editor and translator based in the United Kingdom, earned €200 (US$223) on Peerwith to translate a presentation for Emanuel Rutten, a philosopher at the Free University, Amsterdam, in the Netherlands. The process, from job posting to completed document, took less than two weeks, Rutten says. "It's really smooth." For her part, Kidd says that the interaction with her client improved the final product. At most author-services companies Kidd works with, she says, editors and translators cannot contact the author should they have questions — the client interacts with the service, which identifies a freelancer to handle the job.
Peerwith doesn't vet its service providers, says Anna Sharman, founder of Cofactor, a London-based author-services consultancy. So, unlike her own and other such companies, there is no guarantee that the 'experts' really are qualified. Editors at Cofactor undergo a rigorous recruitment process, Sharman says, and she double-checks their work before it is returned to the client.
Sharman says that she could see Peerwith as a marketing channel for her business, but is concerned that it may foster a "race to the bottom" in pricing. She says that when she created an account, the only request she saw was from someone who wanted a 5,000-word article edited for US$9, "a ridiculously small amount". Sharman charges £60 ($87) per 1,000 words at Cofactor. At Editage, a 6,000-word article with 1-week turnaround costs $350 at the company's 'premium' price, and AJE charges $594. And for 'extensive' scientific editing at MSC (by a panel of at least four editors with experience at high-impact journals), a typical 5,000-word article with a 17-day turnaround costs $2,860.
Peerwith is still getting up to speed, van Rossum says. But ultimately, a community-based marketplace could succeed "if there's the right balance of price and quality", says Deni Auclair, a lead analyst for the media, information and technology consulting firm Outsell, headquartered in Burlingame, California. The larger editorial service providers might be left to target institutions more than individuals, she suggests.
As for Eggert, he received one bid to his job posting, and paid €100 for style and content edits to his 2,500-word paper, which he negotiated down from €120. He says he would use the service again, and recommend it to others — assuming the price is right.
Related links
Related links
Related links in Nature Research
Related external links
About this article
Cite this article
Perkel, J. The manuscript-editing marketplace. Nature 531, 127–128 (2016). https://doi.org/10.1038/531127a
Published:

Issue Date:

DOI: https://doi.org/10.1038/531127a