Country's austerity budget stands in way of law to modernize Soviet-era academy.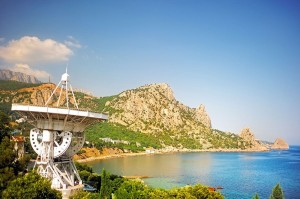 As political turmoil and conflict rock Ukraine, the country's main scientific organization is in a bind. In January, Parliament passed a law to modernize the ailing National Academy of Sciences of Ukraine (NASU). Yet an austerity budget imposed around the same time makes this impossible to achieve — at least this year. The resulting cuts to science funding threaten the jobs of young researchers in particular, who are best poised to revitalize the country's failing economy.
"We have an extraordinarily high number of potential young scientists who are ready to work for the welfare of the country," says Liliya Hrynevych, who chairs the Ukrainian Parliament's Committee on Science and Education and voted in favour of the modernizing law. "But without setting priorities for science and research, it will be impossible for Ukraine to become a strong and wealthy European nation."
The academy employs some 20,000 scientists across 120 research institutes. On 26 November, Parliament began to debate a "law of Ukraine on scientific and technical activity", in an attempt to streamline and strengthen the organization, which was founded in the Soviet era. Long deemed outdated and resistant to modernization, the academy uses an opaque system to award funding, and many of its members are elderly, not least the 97-year-old metallurgist Boris Paton, who has run the NASU for decades.
The law stipulates the creation of a science advisory council that includes foreign specialists, and an independent grant-giving agency. All NASU institutes will undergo an external evaluation to examine their productivity and efficiency, and overall, government science spending must increase from a current 0.3% of gross domestic product to at least 1.7% by fiscal year 2017 — near the European Union average.
But before the law took effect, Ukraine passed its 2016 austerity budget, in the wake of widespread closure of mines and factories, inflation, debt and currency devaluation. The budget allocates a meagre 2.05 billion hryvnia (US$76 million) to the NASU — about 12% less than in 2015, continuing a trend of decline (see 'Ailing academy').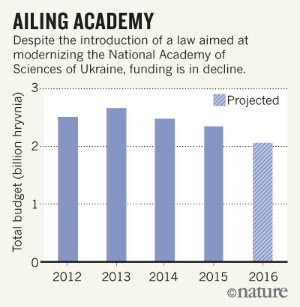 The cutbacks are irreconcilable with the science law, says Hrynevych, who is campaigning in Parliament for a budget revision after the first quarter of 2016. The budget will leave the academy with scarcely enough to cover the scant salaries (about US$200 per month on average) paid to its administrative staff and scientists.
"We won't be able to buy any new equipment this year, and purchase of consumables will need to be reduced to a minimum," says Anatoly Zagorodny, director of the Bogolyubov Institute for Theoretical Physics in Kiev and a vice-president of the academy.
The fresh cuts, he says, will also force institutes to reduce staff — in some circumstances, by more than one-third — and to discontinue many areas of research, even though science is crucial to economic recovery, he adds.
Young scientists are the least protected by existing labour laws and so will feel the brunt of the job cuts, says Irina Yehorchenko, a research fellow at the NASU's Institute of Mathematics in Kiev. She and some of her colleagues launched a petition in December calling on the country's president, Petro Poroshenko, to save Ukrainian science.
"I, for one, might be able to find a postdoc position abroad," says Oleksandr Skorokhod, a cell biologist at the NASU Institute of Molecular Biology and Genetics in Kiev who is chair of the academy's Council of Young Scientists. "But I'd much rather stay and try to change the bad state of affairs in my country."
Ukrainian science has struggled to recover from Russia's annexation of the Crimea peninsula in 2014. General consensus in the international community is that Crimea is still part of the Ukraine — the United Nations General Assembly declared invalid a March 2014 referendum in which voters in Crimea approved the peninsula's secession from Ukraine.
But all 22 Crimean institutes formerly run by the NASU are now under Russian control, and only a few of their 1,320 staff members have relocated to Ukraine-controlled territory. The academy lost access to its only research ship, the RV Professor Vodianytsky, three astronomical observatories in Nauchny, Katsiveli and Yevpatoria and the 204-year-old Nikitsky Botanical Garden near Yalta, on the Black Sea shore.
The Ukrainian government, moreover, expects scientists in Ukraine to cut all ties with colleagues who stayed on the peninsula, says Hrynevych, because any collaboration would be viewed as legitimizing the Russian occupation.
The armed conflict with pro-Russian militants in eastern Ukraine is also causing problems for scientists, especially in the country's Donbas region. Some 12,000 scientists and university lecturers there — about 60% of the former staff of 26 research institutes and universities in the province — have moved to safe institutions in Kiev and elsewhere. But many evacuating scientists left behind equipment or lost irreplaceable research material. Marine, environmental and climate studies in the Black Sea region, mining-related geology and a variety of archaeological and historical research have all been hit hard, says Zagorodny.
Related links
Related links
Related links in Nature Research
Related external links
About this article
Cite this article
Schiermeier, Q. Conflicting laws threaten Ukrainian science. Nature 531, 18–19 (2016). https://doi.org/10.1038/531018a
Published:

Issue Date:

DOI: https://doi.org/10.1038/531018a