Trust does not seem to be unique to humans and may have a long evolutionary history, according to a study in chimpanzees.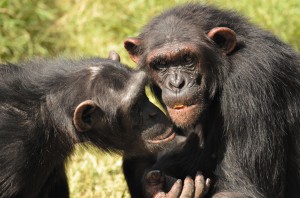 Jan Engelmann and Esther Herrmann at the Max Planck Institute for Evolutionary Anthropology in Leipzig, Germany, identified captive chimps (Pan troglodytes) that were friends with each other — individuals that frequently groomed and spent time together. The animals were then paired up and each chimp was presented with a choice of two ropes that it could pull. The 'no-trust' rope gave the chimp a small food reward and left the partner empty-handed. The 'trust' rope gave the partner a reward, part of which could be sent back to the other chimp.
Chimps were more likely to choose the trust rope when paired with friends than with non-friends, showing that trust in close relationships is not unique to humans. The characteristic might have evolved to stabilize social bonds in primates, the authors say.
About this article
Cite this article
Chimp friendships based on trust. Nature 529, 258 (2016). https://doi.org/10.1038/529258a
Published:

Issue Date:

DOI: https://doi.org/10.1038/529258a