Epidemiologist who spearheaded response to outbreak is a popular choice.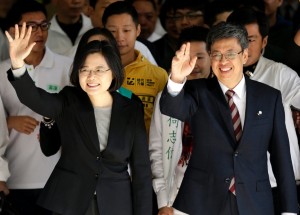 Update, 16 January: Tsai Ing-Wen has won the election and will become Taiwan's first female president. Chen Chien-Jen, an epidemiologist known for his influential studies on the dangers of arsenic and hepatitis as well as his handling of the SARS outbreak in 2003, will be the island's vice president.
A famous and influential scientist, Chen Chien-Jen, is set to become Taiwan's vice-president after elections on 16 January.
If he does, it is hoped that Chen — an epidemiologist looked upon as a hero for his role in subduing Taiwan's outbreak of severe acute respiratory syndrome (SARS) in 2003 — will help to infuse the new government with an air of integrity and collaboration, maintain good relations with China and stimulate ideas for revitalizing the economy.
"He can negotiate with anyone, and is always trying to help," says the National Taiwan University's president, Yang Pan-Chyr. "You wouldn't think such a person would be a candidate for a politician."
Chen announced in November that he would be the running mate for Tsai Ing-Wen, leader of the Democratic Progressive Party (DPP). If Tsai were to win, it would be only the second time in Taiwan's history that the ruling Kuomintang (KMT) party has been dethroned. 
Tsai is ahead in all the polls: she leads the KMT candidate by 30 percentage points, according to the non-profit Cross-Strait Policy Association, which carries out research on relations between Taiwan and the mainland — and the KMT's own survey puts her lead at 8 percentage points.
Chen, too, is popular — the Cross-Strait Policy Association puts his 'admiration' rating at 54%, compared with 27% for his counterpart in the KMT. This is probably a result of his celebrity status with regard to the SARS epidemic.
Panic over the viral infection, which initially emerged in mainland China but quickly spread across many parts of the world, was exacerbated in Taiwan because the United Nations recognizes China's claim that Taiwan is part of China, and thus refuses to give it an independent seat at meetings of the World Health Organization. Excluded from international discussions and sample sharing, Taiwan's outbreak spiralled out of control even as authorities elsewhere were getting a grip on the epidemic.
It was Chen, who was appointed health minister as the epidemic was escalating in Taiwan, who headed containment efforts. He bolstered attempts to isolate patients so as to prevent spread in hospitals, and boosted screening for fever. Even today, mentioning his name can elicit an enthusiastic thumbs-up. "Chen is great," a taxi driver in Taiwan told Nature in early January. "With SARS, he was so fast."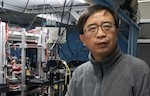 Many researchers value Chen's personality. "He has the capacity and appeal to pull people together," says Ming-Chu Hsu, chief executive of TaiGen, one of Taiwan's most successful biotechnology companies.
Chen carries a reassuring air of reliability. "He would be someone we can trust. Everyone seems to think so," says Yang.
Chen himself told Nature that attributes honed during his time as a scientist — for example, the ability to solve problems — are beneficial to politics. He also said that it is crucial to revitalize Taiwan's stagnant economy: increased competition in electronics from China and elsewhere has slashed the profits that once made Taiwan wealthy.
Tsai has outlined five areas in which Taiwan can innovate: biopharmaceuticals, green energy, big data, precision machinery and national defence. To bolster those aims, Chen plans to establish a research system that encourages researchers and entrepreneurs to take risks. "Now the government doesn't allow failure, so everyone goes for 'me-too' modifications, not innovation," he told Nature.
Scientists and technology-based industrialists say that Chen and Tsai's intention to promote innovation could bring a much-needed focus on Taiwanese science, although advocates are trying to keep things in perspective. "I think all science and technology would benefit from his taking office," says Yang. "But maybe we are expecting too much."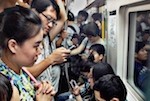 The DPP has traditionally emphasized Taiwanese autonomy, which riles Beijing, but "we don't want to be troublemakers", says Chen. He acknowledges that he himself came up against the Chinese authorities during the SARS epidemic, but says that agreement on how to handle information on health and infectious diseases has largely resolved the issues.
A continuation of the status quo suits neuroscientist Chiang Ann-Shyn at Taiwan's National Tsing Hua University; he expects Chen to act as an antidote to the DPP's sometimes provocative statements on independence. "Relations with China have been good. I don't think Chen will do anything radical," he says. Two decades of stable relations following a crisis in the mid-1990s — when the mainland tested missiles in the strait — have led to a boom in business between Taiwan and the mainland, and research collaborations between them have quadrupled in the past ten years (see 'Cross-strait collaboration').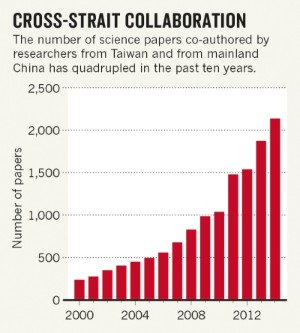 Chen becomes emotional when talking about the possible end of his research career. Until recently, he had assumed that this would be at the nation's premier research organization, the Academia Sinica, where he was vice-president until he declared himself Tsai's running mate.
But although he was at first reluctant to join the electoral race, he finally decided that improving Taiwan's social and economic situation was more important than his research.
A devout Catholic who consulted his archbishop before making his decision, Chen says that he considers his political career a "calling from God". He adds: "I told the people in my laboratory that, for the coming years, it's more important that I serve the people."
name:

Chen Chien-Jen: leaving research

description

bgcolor:

#FFFFFF

wmode:

transparent

width:

100%

height:

236

playerID:

930839825001

playerKey:

AQ~~,AAAAAFNl7zk~,OmXvgxJOvrFZYqSlJuZl7DkhsNbEfjvA

@videoPlayer:

4700301457001

isVid:

true

isUI:

true

dynamicStreaming:

true
name:

Chen Chien-Jen: prepared for politics

description

bgcolor:

#FFFFFF

wmode:

transparent

width:

100%

height:

236

playerID:

930839825001

playerKey:

AQ~~,AAAAAFNl7zk~,OmXvgxJOvrFZYqSlJuZl7DkhsNbEfjvA

@videoPlayer:

4700301531001

isVid:

true

isUI:

true

dynamicStreaming:

true
Electronic supplementary material
Chen Chien-Jen: leaving research
Chen Chien-Jen: prepared for politics
Related links
Related links
Related links in Nature Research
Related external links
About this article
Cite this article
Cyranoski, D. Taiwan's SARS hero poised to be vice-president. Nature 529, 136–137 (2016). https://doi.org/10.1038/529136a
Published:

Issue Date:

DOI: https://doi.org/10.1038/529136a