A spoof paper about mothers kissing their children's 'boo-boos' draws attention on social media.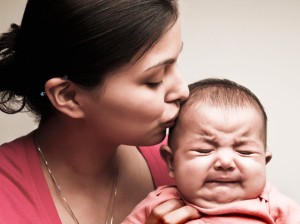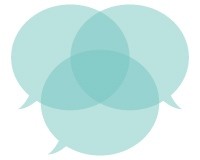 A satirical study1 showing that a mother's kisses didn't help injured children to feel better contained several clues that it was fake. The funder was Proctor and Johnson, a made-up medical company, and one of the references was entitled "So what the hell is going on here?" The paper, describing a fictional randomized controlled trial (RCT) of mothers kissing their toddlers, was designed to illustrate the limitations of evidence-based medicine, which uses data from such clinical trials to direct the practice of medicine.
Many people who shared the article on Twitter played along with it. Angela Smith, a urologist at the University of North Carolina School of Medicine at Chapel Hill, tweeted: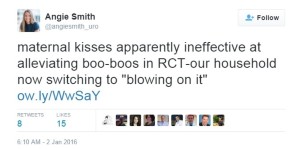 But some commenters said that the article, which the editor of the Journal of Evaluation in Clinical Practice knowingly published in his journal, could be misleading and needs to be clearly labelled as satirical.
RCTs are widely considered to be the gold standard for evidence-based medicine. But recent years have seen some doctors and researchers push back against the emphasis on RCTs, arguing that such studies sideline anecdotal evidence and professional experience, which they say is not always inferior to evidence obtained from clinical trials.
To point out some of the drawbacks of evidence-based medicine, Mark Tonelli, a physician and researcher at the University of Washington Medical Center in Seattle, made up a clinical trial to test whether mothers kissing their children's injuries — or "boo-boos" — helped to relieve the pain. He was inspired by his experiences as a father of a toddler a decade ago. "We were a boo-boo-kissing family," says Tonelli.
His paper, by a fictional collaboration called The Study of Maternal and Child Kissing (SMACK) Working Group, suggested that out of 943 mother–toddler pairs, children in the kissing group were actually "significantly more distressed" than those in the no-kissing group. The authors concluded by recommending a moratorium on boo-boo kissing.
Tonelli meant to criticize RCTs, particularly their failure to consider the importance of person-to-person interactions – a cornerstone of medicine. "Writing a report of a fictional clinical trial as satire allowed multiple limitations and pitfalls of clinical research to be addressed," he says. Tonelli hopes that medical trainees will use the paper "to prime themselves to find similar issues in authentic research reports".
Pierre Azoulay, an economist at the Massachusetts Institution of Technology in Cambridge, reflected on the irony of the paper, tweeting: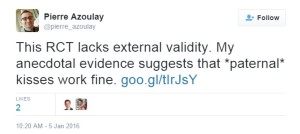 Andrew Miles, editor-in-chief of the Journal of Evaluation in Clinical Practice, points out that the spoof article was published at the end of 2015, and that medical satire is commonplace in the Christmas editions of journals such as the British Medical Journal.
The paper's underlying message is in line with the journal's philosophy, says Miles, who is also senior vice-president of the European Society for Person Centered Healthcare in London and Madrid. In medicine, he notes, scientific research is only one type of knowledge, which must sit alongside other forms, such as professional medical experience, and not above them. "Over-reliance on science is a very dangerous thing," Miles says. Next month, the journal will publish another article unpacking the lessons contained in the satirical paper, he adds.
Carl von Baeyer, a psychologist and paediatrician at the University of Saskatchewan in Saskatoon, Canada, thinks that allowing spoof papers to creep into academic literature may mislead readers. "I thought the article itself was clever and funny," he says. "But the PubMed abstract had nothing that would mark it as a joke, and some readers took it seriously." He also pointed out that some readers might make judgements solely on the paper's abstract, which is "too plausible".
Miles says that he has explained the reasons for commissioning the spoof paper in an editorial that will soon be published. He is now considering including a link to it from the PubMed abstract.
"Satire is an ancient tool to inspire deep thought and critical debate," he says, but "clearly we would not wish to pack our journals full of it".
About this article
Cite this article
Singh Chawla, D. Satirical paper puts evidence-based medicine in the spotlight. Nature 529, 131 (2016). https://doi.org/10.1038/529131f
Published:

Issue Date:

DOI: https://doi.org/10.1038/529131f