Shown here are all the countries in the Nature Index that collaborate internationally. They are sized by weighted collaboration score, which is the sum of the weighted fractional counts for each partnership the country has. The top 20 inter-regional collaborations are highlighted, with the thickness of the arrows scaled to show relative strength. Intra-regional partnerships are also coloured. Analysis by Larissa Kogleck 
Visualization by Small Multiples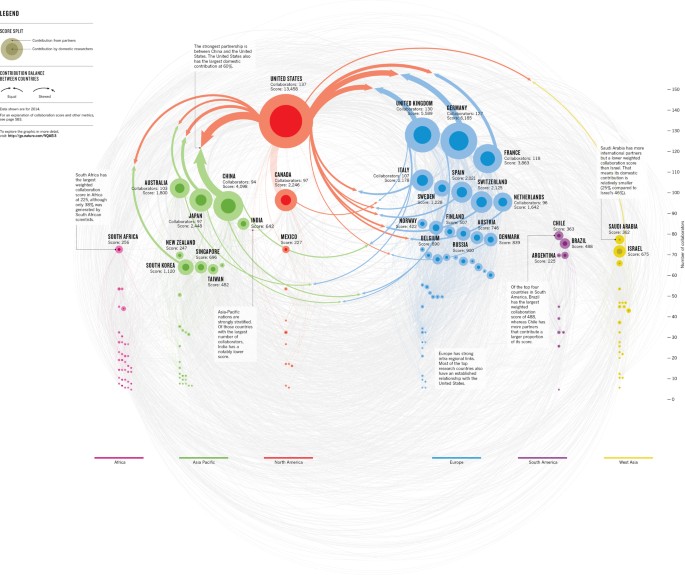 South Africa has the largest weighted collaboration score in Africa at 225, although only 38% was generated by South African scientists.
CHINA AND THE UNITED STATES
The strongest partnership is between China and the United States. The United States also has the largest domestic contribution at 60%.
Asia-Pacific nations are strongly stratified. Of those countries with the largest number of collaborators, India has a notably lower score.
Europe has strong intra-regional links. Most of the top research countries also have an established relationship with the United States.
Of the top four countries in South America, Brazil has the largest weighted collaboration score of 488, whereas Chile has more partners that contribute a larger proportion of its score.
Saudi Arabia has more international partners but a lower weighted collaboration score than Israel. That means its domestic contribution is relatively smaller (25% compared to Israel's 46%).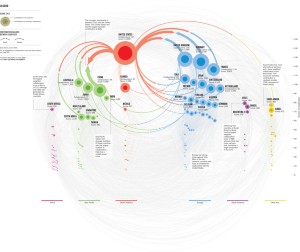 About this article
Cite this article
Strength in numbers. Nature 527, S50–S51 (2015). https://doi.org/10.1038/527S50a
Published:

Issue Date:

DOI: https://doi.org/10.1038/527S50a