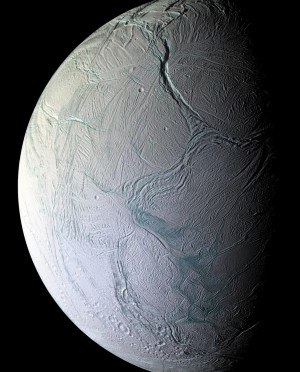 Beneath an icy crust, Saturn's moon Enceladus (pictured) has an ocean that covers its entire globe.
NASA's Cassini spacecraft measured wobbles in Enceladus's rotation over more than seven years. The data confirm that the crust is moving separately from the rocky core, meaning that there must be a widespread layer of liquid between them, says a team led by Peter Thomas of Cornell University in Ithaca, New York.
Cassini had previously spotted jets of liquid spewing from the moon's surface, and other studies have suggested that Enceladus has an underground sea only near its south pole. This latest finding further highlights how Enceladus could be one of the most likely places for extraterrestrial life.
About this article
Cite this article
Global ocean on Enceladus. Nature 525, 428 (2015). https://doi.org/10.1038/525428a
Comments
By submitting a comment you agree to abide by our Terms and Community Guidelines. If you find something abusive or that does not comply with our terms or guidelines please flag it as inappropriate.