A new species of insect-eating sundew plant (Drosera magnifica; pictured) has been identified after an amateur naturalist posted photographs of it on Facebook.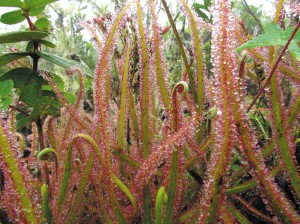 Paulo Minatel Gonella at the University of São Paulo in Brazil and his colleagues were alerted to the photos on the social network, and travelled to southeastern Brazil to study the carnivorous species, which grows in a narrowly defined habitat on a single mountain. The plant has stems roughly 1.5 metres long and is the largest Drosera species in the Americas. The team found many insects trapped in a sticky substance produced by the plant's red tentacles, which cover the leaves.
The sundew is considered critically endangered, because coffee and eucalyptus plantations threaten its habitat.
About this article
Cite this article
New carnivorous plant found on Facebook. Nature 524, 8 (2015). https://doi.org/10.1038/524008a
Published:

Issue Date:

DOI: https://doi.org/10.1038/524008a