A microscopy technique has been used to study the formation and growth of crystals of porous solids known as metal–organic frameworks in real time. The findings will aid the design of methods for making these useful compounds.
Access options
Subscribe to Journal
Get full journal access for 1 year
$199.00
only $3.90 per issue
All prices are NET prices.
VAT will be added later in the checkout.
Tax calculation will be finalised during checkout.
Buy article
Get time limited or full article access on ReadCube.
$32.00
All prices are NET prices.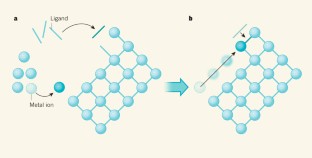 References
Patterson, J. P. et al. J. Am. Chem. Soc. 137, 7322–7328 (2015).

Zheng, C., Greer, H. F., Chianga, C.-Y. & Zhou, W. CrystEngComm 16, 1064–1070 (2014).

Ragon, F., Chevreau, H., Devic, T., Serre, C. & Horcajada, P. Chemistry 21, 7135–7143 (2015).

Ahnfeldt, T. et al. Chemistry 17, 6462–6468 (2011).

de Jonge, N., Peckys, D. B., Kremers, G. J. & Piston, D. W. Proc. Natl Acad. Sci. USA 106, 2159–2164 (2009).

Liao, H.-G., Niu, K. & Zheng, H. Chem. Commun. 49, 11720–11727 (2013).

Venna, S. R., Jasinski, J. B. & Carreon, M. A. J. Am. Chem. Soc. 132, 18030–18033 (2010).
About this article
Cite this article
Walton, K. Movies of a growth mechanism. Nature 523, 535–536 (2015). https://doi.org/10.1038/523535a
Published:

Issue Date:

DOI: https://doi.org/10.1038/523535a