Intense rainfall that caused a devastating flash flood in a Russian town in 2012 (pictured) has been linked to the increasing surface temperature of the Black Sea.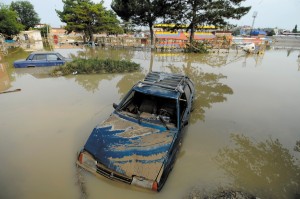 The flood in the town of Krymsk killed more than 170 people after an unprecedented amount of rain — twice the previous record — fell in a single night. Edmund Meredith at the GEOMAR Helmholtz Centre for Ocean Research in Kiel, Germany, and his co-workers used an atmospheric model to study the sensitivity of this event to Black Sea warming. They found that simulations using current Black Sea surface temperatures produced a more than 300% increase in rainfall compared with models in which sea temperatures were similar to those of the early 1980s.
The warmer waters destabilize the atmosphere, making it more likely that intense thunderstorms will form.
About this article
Cite this article
Black Sea warming caused extreme rain. Nature 523, 258 (2015). https://doi.org/10.1038/523258a
Published:

Issue Date:

DOI: https://doi.org/10.1038/523258a