Researchers hope that a more pluralistic parliament will put an end to interference and slipping standards.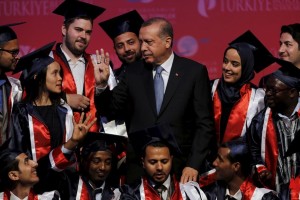 Scientists in Turkey are euphoric after a 7 June election that stripped the mildly Islamic and increasingly repressive Justice and Development Party (AKP) of its absolute parliamentary majority.
They hope that Turkey's next parliament will reverse the creeping restrictions on academic freedom and the seeping away of scientific standards that have been a feature of the AKP's 12 years of political domination. These include stripping public science organizations of their autonomy; allowing the teaching of creationism and astrology; and, most recently, a ban on social scientists interviewing political refugees.
Many of the policies that scientists object to were pushed by Recep Tayyip Erdoğan, who was prime minister between 2003 and 2014 and is now president. Although the AKP remains the largest party in parliament, it now needs a coalition partner to form a government.
"With more pluralism in the parliament there are more prospects that some of the new rules imposed during the last years could be unpicked," says Ali Alpar, an astrophysicist from Sabancı University in Istanbul.
Turkish academics have never been entirely free, but the AKP has escalated government interference. For example, as in many European countries, university faculty members in Turkey vote for their rectors. However, the centralized higher-education council YÖK then compiles a final shortlist, from which Turkey's president selects the winner. The AKP had promised to abolish the unpopular council but ended up using YÖK to promote its own ideology: most Turkish rectors are now AKP sympathizers.
In the latest round of appointments in April, Erdoğan caused consternation at Istanbul University by selecting historian Mahmut Ak as rector, instead of the left-leaning psychiatrist Raşit Tükel, who won most of the faculty's votes and the favour of almost 14,500 people who petitioned Erdoğan to pick Tükel.
The People's Democratic Party (HDP), a coalition of anti-nationalist, environmentalist and other leftist movements, won 13% of the vote in the election. It will use its influence in parliament to prioritize the freeing of academia from state control and to push for the abolition of YÖK, says Gençay Gürsoy, a neurologist who is a member of the HDP assembly.
"I can't tell you how we will celebrate if YÖK is finally abolished," says Esra Mungan, a psychologist at Boğaziçi University in Istanbul and a member of the HDP advisory council. "We are going to dance in the streets."
The AKP's grip on science extends beyond YÖK. In 2005, Erdoğan began to place political loyalists in top posts at Turkey's research-funding agency TÜBİTAK, which had previously enjoyed a degree of autonomy. Many of them were from the Gülen movement — a transnational-national religious and social organization. Scientists say that research funds were no longer distributed according to merit and that the agency has seemed to be anti-evolution. In 2009, TÜBİTAK removed a portrait of Charles Darwin from a cover of a government-backed science magazine and sacked the editor (see Nature 458, 259; 2009). Under the AKP, which turned Turkey from a constitutionally secular nation to one where religion is state-sponsored, creationism is often taught in schools and debated in universities. (The AKP fell out with the Gülenists in 2013 and purged them from TÜBİTAK, leaving it in chaos.)
In 2011, the science ministry assumed control of the Turkish Academy of Sciences, TÜBA. It decreed that TÜBİTAK and YÖK would appoint two-thirds of TÜBA's members, who would then elect the remaining one-third. Most of TÜBA's original members resigned in protest and launched another national academy, Bilim Akademisi, which has regularly challenged science standards.
Earlier this month, the academy, of which Alpar is president, identified two universities that had approved theses and certificates in astrology, and called on YÖK not to allow such unscientific practices. It also contested a government order forbidding university researchers from interviewing refugees without government supervision. The academy argued that the government's claim that the interviews would infringe data-protection laws was invalid.
Until a new government forms, the AKP remains in charge. It irked scientists further on 11 June by appointing Ahmet Arif Ergin as head of TÜBİTAK. "It is extremely undemocratic and inappropriate for a caretaker government to make such an important political appointment," says Mungan.
But the election results have brought hope. "You can't imagine what a relief it has been in scientific circles — the one-man rule had looked unstoppable, but now it is over," says Şevket Ruacan, a pathologist at Koç University in Istanbul and a former TÜBİTAK board member. Change will take time, he says, "but conservative religious influences may now be reduced in education and it may become possible to reduce the political influences in scientific matters".
At least Turkish scientists have not wanted for funding. Research spending has more than trebled since Erdoğan came to power — a result of his now-stalled endeavour for Turkey to be admitted to the European Union. Some major infrastructures have been developed, including the ambitious €60-million (US$68-million) Izmir Biomedicine & Genome Center, due to open in September.
Related links
Related links
Related links in Nature Research
Related external links
About this article
Cite this article
Abbott, A. Turkey election results delight scientists. Nature 522, 264–265 (2015). https://doi.org/10.1038/522264a
Published:

Issue Date:

DOI: https://doi.org/10.1038/522264a