The practice of using free labour to do field work sparks online discussion.
Volunteer jobs are a rite of passage for many budding ecologists and wildlife biologists, but a website highlighting these unpaid positions calls them "unprofessional" and "exploitative". Alex Bond, a conservation biologist at the RSPB Centre for Conservation Science in Sandy, UK, created the Tumblr page 'Crap Wildlife "Jobs"' on 31 May, and it already has supporters on Twitter. Julie Godbout, an environmental geneticist at Laval University in Quebec City, Canada, tweeted: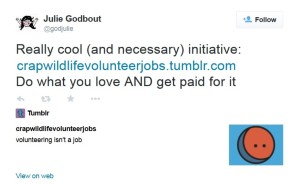 But Stephanie Stack, an environmental scientist with the Pacific Whale Foundation in Wailuku, Hawaii, which is featured on the page, says that unpaid internships give young scientists a chance to gain valuable experience and to make connections in the field.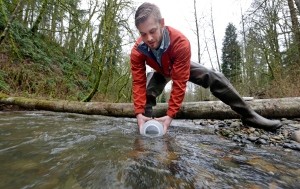 The website includes opportunities to study crested black macaques in Indonesia, Damara mole rats in South Africa and, for Stack's organization, humpback whales in Hawaii. The posts cover a range of duties, from trapping animals to collecting blood and faecal samples. Some warn of gruelling work in remote, rugged areas, and one job involved possibly fending off leeches and venomous snakes. The position in Indonesia, offered by a psychology PhD student at the University of Lincoln, UK, requires at least a bachelor's degree in biology or a related field and involves 10–12 hours of work for 5 days a week. According to the posting, the assistant will not be paid and should be prepared to pay for their own travel and camping fees, although an existing crowdfunding campaign may help to cover some costs.
Bond writes on his site that "volunteer 'jobs' that offer no pay are rampant in wildlife ecology and conservation biology, and it's time for them to stop." In an interview, he said that with the glut of qualified researchers, it is easy to find someone willing to work for free. Bond says that such positions undoubtedly provide valuable work experience, but only for those who can afford them, and this can prevent scientists from less-well-off backgrounds from entering the field.
Ian Richards, director of public relations for the University of Lincoln, says that the announcement for the job in Indonesia had not gone through official university channels and didn't meet the institution's standards for employment. "That was far beyond the reasonable requests of a volunteer," he says. The university has cancelled the advert, and the psychology department plans to look for other ways to help the PhD student conduct the research, he says.
Stack says: "It's an unfortunate reality that schools are producing more students than there are jobs." And although the Pacific Whale Foundation does not provide compensation for volunteers, she says that the organization does offer other assistance, including help preparing CVs. Thanks largely to the allure of whale research, there is no shortage of applicants, she says. "Even people who are overqualified are applying for unpaid internships."
Despite the lack of salary, the jobs hold appeal for some young scientists. Kyla Ercit, a PhD student in evolutionary ecology at the University of Toronto in Mississauga, Canada, tweeted: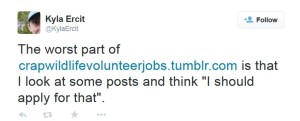 She said in an interview: "Interesting biology jobs are so rare that I've conditioned myself to apply for any job that I'm qualified for."
Ercit says that before she started graduate school, she took an unpaid job netting and banding birds at a remote field site in Nova Scotia and got financial help from her family. "It was a great experience," she says, adding that it taught her useful ecological sampling techniques and eventually led to a paid job.
A PhD student whose job announcement was listed on Bond's website protested and asked for her listing to be removed. The student, who asked not to be named, was seeking an assistant for a bird banding study. She explains that her university prohibits her from working alone in the field, making it necessary to enlist at least one helper — but she supports herself entirely through grants that, by rule, cannot be used to hire an assistant.
Bond did remove that particular post, and says that he never intended to shame any particular person or institution. He just thinks that scientists should be paid. "They are professionals, and they should be treated as such," he says.
Related links
Related links
Related links in Nature Research
Related external links
About this article
Cite this article
Woolston, C. Unpaid research jobs draw criticism. Nature 522, 131 (2015). https://doi.org/10.1038/522131f
Published:

Issue Date:

DOI: https://doi.org/10.1038/522131f