Relationship between traditionally pacifist research community and military is changing.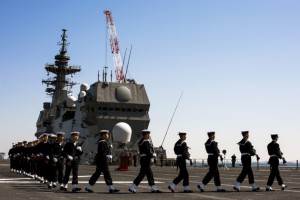 Ever since the Second World War, Japan has been resolutely pacifist. So some scientists were perturbed last month to learn that the country's defence ministry has started a basic-research fund. Although the sum — ¥300 million (US$2.5 million) for the first year — is a pittance compared with the nation's total research funding, to much of the academic community the money is an ominous sign.
The fund, which appeared in the country's annual budget, is the latest in a slew of develop­ments that suggest that Japanese research is taking on a military dimension, say a growing number of concerned scientists. Also of concern is a recently introduced government project inspired by the US Defense Advanced Research Projects Agency (DARPA).
"Military objectives and military logic could start to have a major influence on the academic world," says Morihisa Hamada, a geochemist at the Japan Agency for Marine-Earth Science and Technology in Yokohama, who started an online campaign decrying the shift last year. "To us, this is of particular concern."
In 1950, the Science Council of Japan made a statement eschewing research tied to war, and such vows have since been renewed. But with a hawkish prime minister in Shinzo Abe, and tensions with China and North Korea growing, the academia–military relationship is changing.
Debate over the cultivation of research with military applications started to heat up last year, when the Abe-chaired Council for Science, Technology and Innovation created a project dubbed ImPACT (Impulsing Paradigm Change through Disruptive Technologies). The ¥550-billion, 5-year project consists of 12 research programmes that the government says were picked because they are high risk but offer high commercial rewards. The government says that this focus, and the project's management structure — each programme has its own manager, who coordinates research between mostly university-based scientists — were inspired by DARPA, a powerhouse for blue-skies research.
Critics have charged that ImPACT also mimics DARPA's explicit focus on 'dual-use' technologies with both military and civilian applications, and there are signs that it could have a military dimension. The military is "watching the ImPACT projects closely", says a defence-ministry representative who did not want to be named. And Atsushi Sunami, a researcher at the National Graduate Institute for Policy Studies in Tokyo who helped to create ImPACT, says that although Abe's main goals were economic, he was also drawn to the potential military applications "because of the changing security environment surrounding Japan, including the rising tensions with China".
However, some researchers whose projects have dual-use potential say that they feel little pressure to devise military uses.
Satoshi Tadokoro of Tohoku University will get ¥3.5 billion for a 'tough robotics' project developing aerial and legged automatons to withstand heat and explosions. He says that his project has no connection with the military and will be used for disaster relief.
Similarly, Yoshiyuki Sankai at the University of Tsukuba and his team are using ImPACT funding to develop an exoskeleton that picks up nerve signals from its wearer and converts them to mechanical force. It will be used in health care, to help caregivers who have to lift patients, says Sankai.
The ministry of defence's ¥300-million fund is much less ambitious than ImPACT. The money will go to a competitive grant programme similar to those run by the health and economics ministries. But it will be explicitly earmarked for dual-use technologies, including ones that create military equipment or apply cutting-edge technology to defence.
"In terms of the government strategy of asking universities and research institutes to do military research, this is a major turning point," says Norikazu Kameyama, an agricultural scientist at the University of the Ryukyus in Okinawa.
University budgets have been cut over the past decade, and scientists have become increasingly reliant on ministry grants. Hamada says that some researchers are describing the defence grants as a "blessing". But hefears that the funding will come with restrictions on the ability to share data.
His is not a lone voice. He set up his online appeal with Kameyama in March last year, in response to earlier signs that the military was making incursions into research. It now has 1,000 signatures. "We are appealing to the conscience of scientists," says Kameyama.
Related links
Related links
Related links in Nature Research
Related external links
About this article
Cite this article
Cyranoski, D. Japanese academics spooked by military science incursions. Nature 521, 13–14 (2015). https://doi.org/10.1038/521013a
Published:

Issue Date:

DOI: https://doi.org/10.1038/521013a