Disparaging comments to female authors prompt more calls for double-blind refereeing.
The publisher PLoS says that it will not re-use the peer reviewer who suggested that a rejected study could be improved by adding a male co-author — a report that was made public and widely criticized last week (see article, below).
In an online post on 1 May, Damian Pattinson, editorial director of the journal PLoS ONE, wrote that the offending referee report had been sent to his journal. He said that the reviewer had been "removed" from the journal's reviewer database, and added that the academic editor who handled the manuscript had been asked to step down from PLoS ONE's editorial board.
"I want to sincerely apologize for the distress the report caused the authors, and to make clear that we completely oppose the sentiments it expressed. We are reviewing our processes to ensure that future authors are given a fair and unprejudiced review," he wrote.
Scientists on social media have reacted with dismay to a peer reviewer who suggested that a rejected study — which looked at gender differences in postdoctoral job opportunities — could be improved by adding a male co-author.
Fiona Ingleby, lead author of the still-unpublished study and an evolutionary biologist at the University of Sussex, UK, revealed excerpts of the anonymous review on Twitter on 29 April, setting off a flurry of retweets and responses. Seth Zenz, a particle physicist at Imperial College London, tweeted: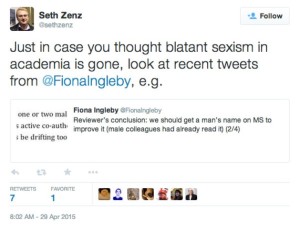 And Caitlin Casey, an astronomer at the University of California, Irvine, tweeted: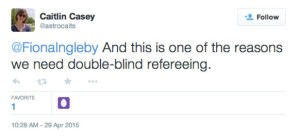 In the passage that gained particular attention on social media, the reviewer suggested that Ingleby enlist male biologists as co-authors. These could "serve as a possible check against interpretations that may sometimes be drifting too far away from empirical evidence into ideologically biased assumptions", the reviewer suggested, according to Ingleby.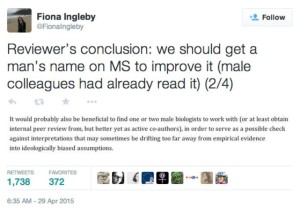 In another excerpt posted by Ingleby, the reviewer wrote that "it might well be that on average men publish in better journals … perhaps simply because men, perhaps, on average work more hours per week than women, due to marginally better health and stamina". The reviewer also wrote that "it is not so surprising" that male doctoral students on average are co-authors more often than female students, "just as, on average, male doctoral students can probably run a mile race a bit faster than female doctoral students". This contrasts with the view of many scientists, who have dismissed the idea that gender inequalities in science are caused by physical differences between men and women (see also Nature Special: Women in science).
Speaking to Nature, Ingleby says that she was shocked by the "patronizing" tone of the review. She has not named the specific journal involved, but has said that it is published by PLoS, headquartered in San Francisco, California. Ingleby and her co-author filed an appeal against the rejection three weeks ago. On 30 April, PLoS notified Ingleby that the appeal was successful and that the manuscript will be re-evaluated by a different reviewer. 
David Knutson, a spokesperson for PLoS, says that the publisher "regrets the tone, spirit and content of this particular review". He adds that reviewers are totally independent of the journal, but that authors have the opportunity to raise concerns about the review process with the journal.
Ingleby says that the comments she received were "an extreme example" of a prevailing bias against women in science. She suspects that the tenor of the review would have been different if the reviewer had not been anonymous. "He wouldn't have made so many rude and sarcastic comments if he had put his name to it," she says.
Jim Woodgett, a stem-cell researcher at the Lunenfeld–Tanenbaum Research Institute in Toronto, Canada, tweeted that he would ban the reviewer and use the whole incident as a teaching tool for the future. In an interview, he says that the reviewer's comments are "simply intolerable" and questions whether the journal should have passed them on to the authors.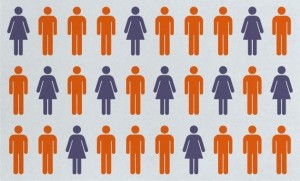 Related links
Related links
Related links in Nature Research
Related external links
About this article
Cite this article
Woolston, C. Sexist review causes Twitter storm. Nature 521, 9 (2015). https://doi.org/10.1038/521009f
Published:

Issue Date:

DOI: https://doi.org/10.1038/521009f