The heavy element lawrencium is available in only tiny quantities. Measurement of one of its atomic properties was thus an experimental challenge, but indispensably validates theoretical models of heavy elements. See Letter p.209
Access options
Subscribe to Journal
Get full journal access for 1 year
$199.00
only $3.90 per issue
All prices are NET prices.
VAT will be added later in the checkout.
Tax calculation will be finalised during checkout.
Buy article
Get time limited or full article access on ReadCube.
$32.00
All prices are NET prices.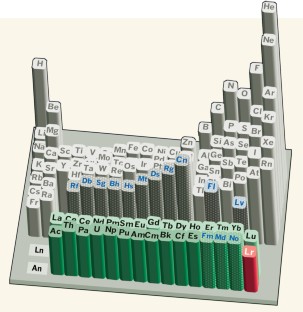 References
Sato, T. K. et al. Nature 520, 209–211 (2015).

Pyykkö, P. Inorg. Chim. Acta 358, 4113–4130 (2005).

Calvo, F., Pahl, E., Wormit, M. & Schwerdtfeger, P. Angew. Chem. Int. Edn 52, 7583–7585 (2013).

Pershina, V. in The Chemistry of Superheavy Elements 2nd edn (eds Schädel, M. & Shaughnessy, D.) 135–240 (Springer, 2014).

Oganessian, Yu. Ts. et al. Phys. Rev. C 74, 044602 (2006).

Minaya Ramirez, E. et al. Science 337, 1207–1210 (2012).
About this article
Cite this article
Türler, A. Lawrencium bridges a knowledge gap. Nature 520, 166–167 (2015). https://doi.org/10.1038/520166a
Published:

Issue Date:

DOI: https://doi.org/10.1038/520166a