A call for science-infused art generates enthusiastic response.
Images of painted pterosaurs, ceramic diatoms and quilts depicting neurons have flooded scientists' Twitter feeds, after the writers of Symbiartic, Scientific American's art blog launched 'SciArt Week' this week. Researchers and artists have been posting a flurry of artwork highlighting the beautiful side of science, using the hashtag #sciart. Malcolm Campbell, a plant scientist at the University of Toronto, Scarborough, Canada, was one of the first researchers to announce SciArt week on Twitter. "Art captures the imagination in a way that science alone cannot," he says. "It's a wonderful way to make science more tangible to the public."
The week began with a post on the Symbiartic blog calling for followers to tweet out at least three pieces of scientific art — including paintings, cartoons, medical illustrations and rough sketches — each day. Glendon Mellow, the Toronto-based artist and Symbiartic blogger who first conceived SciArt Week, says he was originally hoping for about 1,600 #sciart tweets per day, but was surprised to see nearly 5,000 on 2 March alone. One of his motivations, he says, was to expose artists to a wider audience of potential buyers. "We want people who love science to become aware of how easily they can reach out to artists."
The deluge of images has spanned just about every field of science. Adam Summers, a fish biologist at the University of Washington, Seattle, shared his striking photograph of a leopard shark embryo with blue-stained cartilage.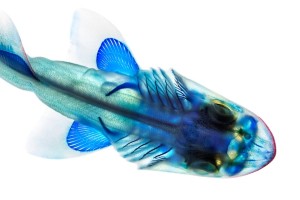 Natasha Mhatre, a biophysicist at the University of Toronto, Scarborough, tweeted her painting that blends text with nature. Her description: "Barn owls made of words frequently used in papers about their sound localisation capabilities."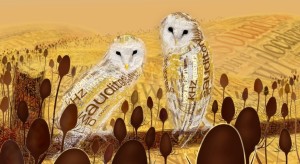 Mhatre says that she often includes fragments of scientific text in her artwork. The words taken out of context become an abstraction, she says, much as science itself is often an abstraction of complex systems. She ultimately wants to show that there is an artistic side to science — and to scientists. "We study beautiful, exciting and interesting things," she says. "We're not the one-dimensional people often portrayed in the popular culture."
Artists also joined the #sciart tweetfest. Joni Seidenstein, a quilter based in Vienna, Virginia, tweeted a picture of a quilt featuring two interacting neurons. Small bits of foil represent synapses, or neural connections.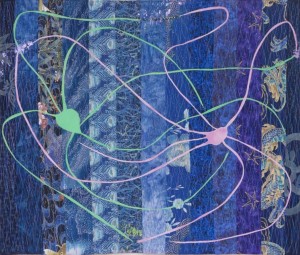 Seidenstein, who sold her neuro-themed quilts at last year's Society for Neuroscience annual meeting, says she decided to devote herself to biology-inspired creations when she saw some designs based on microscope images in 2012. "My dad is a pathologist, and I've always been more interested in hanging out in science museums than art museums."
Jessica Rosenkrantz, an artist in Somerville, Massachusetts, shared 'The Cave' (Laplacian Growth), a sculpture created by herself and her collaborator, Jesse Louis-Rosenberg. Rosenkrantz, who has undergraduate degrees in biology and architecture, explains that the sculpture was created with a three-dimensional printer using a program designed to mimic the crystal growth of supercooled fluids.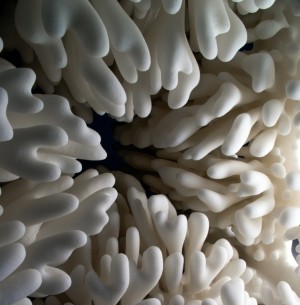 Mellow hopes that the enthusiastic response to SciArt week will be remembered. "Maybe it will become an annual tradition," he says.
Related links
Related links
Related links in Nature Research
Related external links
About this article
Cite this article
Woolston, C. Celebration of scientific art kicks off Twitter storm. Nature 519, 133 (2015). https://doi.org/10.1038/519133f
Published:

Issue Date:

DOI: https://doi.org/10.1038/519133f