UK launches effort to track children from birth, months after US counterpart closes.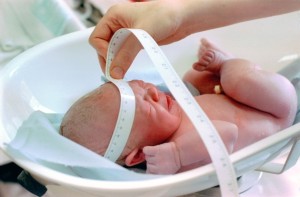 An ambitious study that will follow 80,000 children from cradle to grave has launched in the United Kingdom, two months after a similar project in the United States ended in expensive failure.
The project aims to track a generation of twenty-first-century babies and work out which factors in their early lives are important in shaping their health and wealth as they grow into adults. There are reasons to hope that the Life Study will have a happier ending than its US counterpart, the National Children's Study.
Such 'birth-cohort' studies are prized. Scientists have used them to extract a stream of associations — for example, deducing that smoking during pregnancy is linked to poor child development, and that children born at socio-economic disadvantage are more likely to struggle at school.
Researchers argue that new birth cohorts are needed. Children born today, at least in most Western countries, enter a world that is increasingly warmer, more digitized, more ethnically diverse and more obese, with wider income inequality, than it was even a decade ago. New questions and techniques, such as sophisticated genetic analyses, also arise as time goes on, allowing different information to be gleaned.
The National Children's Study aimed to follow 100,000 children from birth to age 21, but was cancelled in December 2014 before it fully launched, 15 years and US$1.2 billion after its inception (see Naturehttp://doi.org/2dh;2014). Scientists had started to recruit parents and children, but the study struggled to find a clear scientific direction, had trouble enrolling participants and racked up eye-watering costs.
Meanwhile, scientists in the United Kingdom have been getting their own birth-cohort study off the ground, although it has attracted much less attention than the US study. The team involved, led by paediatric epidemiologist Carol Dezateux of University College London's Institute of Child Health, officially launched the Life Study this week at the House of Lords, to raise its profile among politicians and policy-makers.
Studies in Norway and Denmark are each currently following more than 100,000 children, and the United Kingdom already has a series of smaller birth cohorts, the first of which started in 1946 (see Nature 471, 20–24; 2011). But the Life Study aims to distinguish itself, in particular by collecting detailed information on pregnancy and the first year of the children's lives — a period that is considered crucial in shaping later development.
The scientists plan to squirrel away freezer-fulls of tissue samples, including urine, blood, faeces and pieces of placenta, as well as reams of data, ranging from parents' income to records of their mobile-phone use and videos of the babies interacting with their parents.
The idea of a major new British birth cohort was first aired in the mid-2000s, but it took years to get organized. Government funding bodies agreed in 2011 to pay £38.4 million (US$60 million) until 2019. The scientists have since done pilot studies, and late last autumn they started to recruit parents into the study proper, with the aim of enrolling all participants by 2018.
Certain factors make researchers optimistic that the British study will succeed where the US one failed. One is the National Health Service, which provides care for almost all pregnant women and their children in the United Kingdom, and so offers a centralized means of recruiting, tracing and collecting medical information on study participants.
In the United States, by contrast, medical care is provided by a patchwork of different providers. "I think that most researchers in the US recognize that our way of doing population-based research here is simply different from the way things can be done in the UK and in Europe, and it will almost always be more expensive here," says Mark Klebanoff, a paediatric epidemiologist at Nationwide Children's Hospital in Columbus, Ohio, who was involved in early discussions about the US study.
At one stage, US researchers had planned to knock on doors of random houses looking for women to enrol before they were even pregnant. "It became obvious that that wasn't going to be a winning formula," says Philip Pizzo, a paediatrician at Stanford University in Palo Alto, California, who co-chaired the working group that concluded that the National Children's Study was not feasible. "The very notion that someone was going to show up on your doorstep as a representative from a government-funded study and say 'Are you thinking of getting pregnant?' was not so attractive sociologically."
Researchers involved in the UK study say that they hope to learn from the challenges faced by their US counterparts — they have a clear study design and recruitment strategy — and that they are keen to collaborate internationally. The major concern is whether enough interested parents will sign up, something that will become apparent only in the next few months. "It's the known unknown," says Dezateux.
US researchers mourn the demise of their study. "We have now lost the opportunity to remain at the forefront of this field, and to collect the crucial life-course data," says Ezra Susser, an epidemiologist at Columbia University in New York City. But starting a study that lasts a lifetime comes with particular challenges wherever it is done, says Pizzo. For instance, about one-third of the children in the UK study are expected to live to 100. The scientists designing the study will be long dead by then, and can only hope that the information they collect will still be useful. "The responsibility of getting it right will be enormously significant," says Pizzo. "If you think of what's happened in the last decade — in terms of social media, how we connect, the insights around basic biology — 100 years from now, it's almost imponderable to think where knowledge is going to be."
Related links
Related links
Related links in Nature Research
Related external links
About this article
Cite this article
Pearson, H. Wanted: 80,000 British babies for massive study. Nature 518, 463–464 (2015). https://doi.org/10.1038/518463a
Published:

Issue Date:

DOI: https://doi.org/10.1038/518463a