The success of antibodies as pharmaceuticals has triggered interest in crafting much smaller mimics. A crucial step forward has been taken with the chemical synthesis of small molecules that recruit immune cells to attack cancer cells.
This is a preview of subscription content
Access options
Subscribe to Journal
Get full journal access for 1 year
$199.00
only $3.90 per issue
All prices are NET prices.
VAT will be added later in the checkout.
Tax calculation will be finalised during checkout.
Buy article
Get time limited or full article access on ReadCube.
$32.00
All prices are NET prices.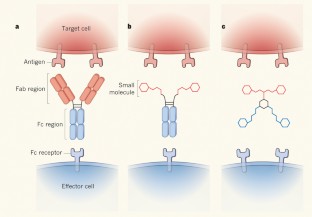 References
Reichert, J. M. mAbs 7, 1–8 (2015).

McEnaney, P. J. et al. J. Am. Chem. Soc. 136, 18034–18043 (2014).

Rader, C. Trends Biotechnol. 32, 186–197 (2014).

McEnaney, P. J., Parker, C. G., Zhang, A. X. & Spiegel, D. A. ACS Chem. Biol. 7, 1139–1151 (2012).

Dennis, M. S. et al. J. Biol. Chem. 277, 35035–35043 (2002).

Kodadek, T. Curr. Opin. Chem. Biol. 14, 713–720 (2010).

Frankel, S. R. & Baeuerle, P. A. Curr. Opin. Chem. Biol. 17, 385–392 (2013).
About this article
Cite this article
Rader, C. How to minimalize antibodies. Nature 518, 38–39 (2015). https://doi.org/10.1038/518038a
Published:

Issue Date:

DOI: https://doi.org/10.1038/518038a