A study that ranks ecology journals on the basis of citation numbers and review times attracts attention online.
Deciding where to submit a scientific manuscript is a strategic decision for researchers who are balancing the desire for high impact with the need for quick publication. Two ecologists have tried to crack that conundrum by creating mathematical models that quantify the potential value of submitting to any of 61 ecology journals. In a study in PLoS ONE1, they conclude that Ecology Letters, Ecological Monographs and PLoS ONE are good choices for researchers seeking a large number of citations but relatively fast review times. Researchers on social media appreciated the effort. Ross Mounce, an evolutionary biologist at the University of Bath, UK, tweeted: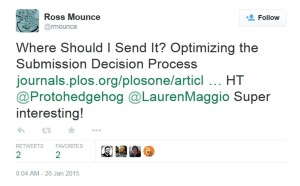 But Marcel Holyoak, editor-in-chief of Ecology Letters, says that the analysis has limitations and is probably "most useful for a naive author without experience on which journals to target".
The PLoS ONE paper evaluated the 61 journals on the basis of data on acceptance rates and decision times provided by the publications (Nature was not included in the analysis because the journal did not provide all the necessary data). One of the models is designed to maximize citations over a given time period, while taking into account the potential hassle and delay that comes with rejections and resubmissions. The model suggests that, in many instances, PLoS ONE would fall into a sweet spot that provides a moderate pay-off in citations and relatively little frustration. For example, submitting first to PLoS ONE instead of to a higher-impact journal such as Ecology Letters or Science might cost a paper up to 14 citations, but would probably avoid at least one revision while saving between 30 and 150 days of publication delay. The model also suggests that submitting to relatively low-impact journals, such as Wildlife Monographs or the Russian Journal of Ecology instead of PLoS ONE, would significantly reduce citations without much benefit in terms of waiting time or the chance of rejection.
The paper offers an important lesson, says Mounce: submitting to top-tier journals isn't always the best strategy, especially for scientists who need to rack up publications in a hurry for job promotions. "I know people who essentially had to quit academia because they chose the high-risk approach rather than just publishing their work in decent outlets," he says.
Jean-Michel Ané, a microbiologist and plant scientist at the University of Wisconsin–Madison, shared the article on the social publishing site scoop.it with the comment: "It would be great if they could do that for other disciplines like … microbiology and plant sciences for instance!"
Ané said in an interview that choosing where to submit a paper can be a high-stakes game when careers rest on it. Unfortunately, he says, some of the key variables in the decision can be hard to assess. "A journal may say that they review a paper within 10 days, but the reality can be very different," he says. "A database where those parameters could be compiled and updated regularly would be super useful."
Holyoak says that he's glad Ecology Letters fared well in the analysis, but he also believes that the model "is a bit crude", largely because it assumes that each article has the same quality, which he sees as an oversimplification. Santiago Salinas, an ecologist now at the University of the Pacific in Stockton, California, and co-author of the paper, acknowledges that the merits of a manuscript should play an important part in submission decisions. He adds that the model originally had a "paper quality" variable but it proved to be too subjective to be workable. "We tried to keep the model as flexible as possible," he says.
Many commenters on Twitter noted that the paper appeared in one of the journals that the model recommends. That's not an accident, Salinas says. "We actually used what we learned from the model to submit to PLoS ONE," he explains. "We followed our own advice."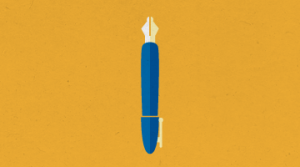 References
Salinas, S. & Munch, S. B. PLoS ONE 10, e0115451 (2015)
Related links
Related links
Related links in Nature Research
Related external links
About this article
Cite this article
Woolston, C. Mathematical model helps scientists decide where to submit their papers. Nature 518, 9 (2015). https://doi.org/10.1038/518009f
Published:

Issue Date:

DOI: https://doi.org/10.1038/518009f