A catalyst has been tuned to make different compounds from the same molecules in carbon–nitrogen bond-forming reactions, depending on the conditions used. The products are potential building blocks for biologically active molecules.
This is a preview of subscription content
Access options
Subscribe to Journal
Get full journal access for 1 year
$199.00
only $3.90 per issue
All prices are NET prices.
VAT will be added later in the checkout.
Tax calculation will be finalised during checkout.
Rent or Buy article
Get time limited or full article access on ReadCube.
from$8.99
All prices are NET prices.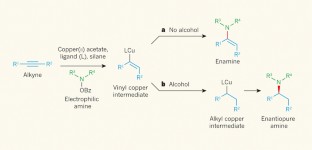 References
1

Shi, S.-L. & Buchwald, S. L. Nature Chem. 7, 38–44 (2015).

2

Anastas, P. & Eghbali, N. Chem. Soc. Rev. 39, 301–312 (2010).

3

Müller, T. E., Hultzsch, K. C., Yus, M., Foubelo, F. & Tada, M. Chem. Rev. 108, 3795–3892 (2008).

4

Hannedouche, J. & Schulz, E. Chem. Eur. J. 19, 4972–4985 (2013).

5

Zhu, S., Niljianskul, N. & Buchwald, S. L. J. Am. Chem. Soc. 135, 15746–15749 (2013).

6

Miki, Y., Hirano, K., Satoh, T. & Miura, M. Angew. Chem. Int. Edn 52, 10830–10834 (2013).
About this article
Cite this article
Schulz, E. One catalyst, two reactions. Nature 517, 280–281 (2015). https://doi.org/10.1038/517280a