During immune-cell development, potentially self-reactive T cells are eliminated. It emerges that recruitment of a co-receptor bound to the T-cell receptor by the enzyme Lck is the rate-limiting step in this negative selection.
Access options
Subscribe to Journal
Get full journal access for 1 year
$199.00
only $3.90 per issue
All prices are NET prices.
VAT will be added later in the checkout.
Tax calculation will be finalised during checkout.
Buy article
Get time limited or full article access on ReadCube.
$32.00
All prices are NET prices.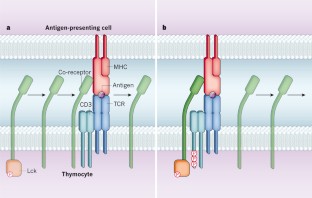 References
Stepanek, O. et al. Cell 159, 333–345 (2014).

McKeithan, T. W. Proc. Natl Acad. Sci. USA 92, 5042–5046 (1995).

Daniels, M. A. et al. Nature 444, 724–729 (2006).

Naeher, D. et al. J. Exp. Med. 204, 2553–2559 (2007).

Wiest, D. L. et al. J. Exp. Med. 178, 1701–1712 (1993).

Yachi, P. P., Ampudia, L., Gascoigne, N. R. & Zai, T. Nature Immunol. 6, 785–792 (2005).

Jiang, N. et al. Immunity 34, 13–23 (2011).

Casas, J. et al. Nature Commun. (in the press).

Xu, H. & Littman, D. R. Cell 74, 633–643 (1993).

Bachmann, M. F. et al. J. Exp. Med. 189, 1521–1530 (1999).
About this article
Cite this article
Gascoigne, N. Tolerance lies in the timing. Nature 515, 502–503 (2014). https://doi.org/10.1038/515502a
Published:

Issue Date:

DOI: https://doi.org/10.1038/515502a