Conventional behavioural mouse models of depression are often used to study the disorder, but cannot capture the full picture of the human disease. Here, scientists present two views about the best research strategies to adopt if treatments are to be improved.
This is a preview of subscription content
Access options
Subscribe to Journal
Get full journal access for 1 year
$199.00
only $3.90 per issue
All prices are NET prices.
VAT will be added later in the checkout.
Tax calculation will be finalised during checkout.
Buy article
Get time limited or full article access on ReadCube.
$32.00
All prices are NET prices.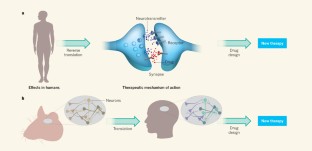 References
Li, B. et al. Nature 470, 535–539 (2011).

Nestler, E. J. & Hyman, S. E. Nature Neurosci. 13, 1161–1169 (2010).

Berman, R. M. et al. Biol. Psychiatry 47, 351–354 (2000).

Price, R. B., Nock, M. K., Charney, D. S. & Mathew, S. J. Biol. Psychiatry 66, 522–526 (2009).

Autry, A. E. et al. Nature 475, 91–95 (2011).

Kavalali, E. T. & Monteggia, L. M. Am. J. Psychiatry 169, 1150–1156 (2012).

Hyman, S. E. Neuropsychopharmacology 39, 220–229 (2014).

Moghaddam, B. & Krystal, J. H. Schizophrenia Bull. 38, 942–949 (2012).

Deisseroth, K. Nature 505, 309–317 (2014).

Steinberg, E. E., Christoffel, D. J., Deisseroth, K. & Malenka, R. C. Curr. Opin. Neurobiol. 30, 9–16 (2015).

Akil, H. et al. Science 327, 1580–1581 (2010).
About this article
Cite this article
Monteggia, L., Malenka, R. & Deisseroth, K. The best way forward. Nature 515, 200–201 (2014). https://doi.org/10.1038/515200a
Published:

Issue Date:

DOI: https://doi.org/10.1038/515200a