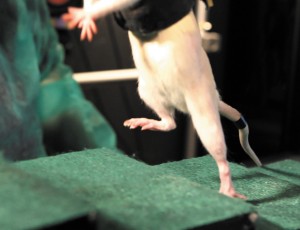 Paralysed rats can be made to walk using a device that electrically stimulates the spine and adjusts the pulses according to ongoing movement.
Grégoire Courtine and his colleagues from the Swiss Federal Institute of Technology in Lausanne implanted electrodes into the spinal cords of rats below the site of the animals' paralysing injury. The team developed algorithms that tuned the electrical signals in realtime, based on continuous feedback on the leg's position and movement. This allowed the rats to walk with a more natural gait, compared with systems currently in development that use fixed stimulation parameters. The animals walked at least 1,000 steps on a treadmill and could climb steps (pictured).
The authors plan to test their technique in patients with spinal-cord injury.
About this article
Cite this article
Paralysed rats stimulated to walk. Nature 514, 8 (2014). https://doi.org/10.1038/514008c