Synthetic biology involves the creation of biological systems for new applications by modifying and reassembling biological components. Two views are presented here on the best way to engineer these components so that they reliably generate organisms with desired traits.
Access options
Subscribe to Journal
Get full journal access for 1 year
$199.00
only $3.90 per issue
All prices are NET prices.
VAT will be added later in the checkout.
Tax calculation will be finalised during checkout.
Buy article
Get time limited or full article access on ReadCube.
$32.00
All prices are NET prices.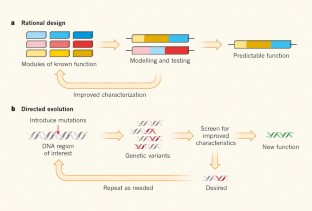 References
Gardner, T. S., Cantor, C. R. & Collins, J. J. Nature 403, 339–342 (2000).

Kotula, J. W. et al. Proc. Natl Acad. Sci. USA http://dx.doi.org/10.1073/pnas.1321321111 (2014).

Keasling, J. D. Proc. Am. Phil. Soc. 156, 283–294 (2012).

Sarkar, I., Hauber, I., Hauber, J. & Buchholz, F. Science 316, 1912–1915 (2007).

Bastian, S. et al. Metab. Eng. 13, 345–352 (2011).

Romero, P. A. & Arnold, F. H. Nature Rev. Mol. Cell Biol. 10, 866–876 (2009).

Trudeau, D. L., Smith, M. A. & Arnold, F. H. Curr. Opin. Chem. Biol. 17, 902–909 (2013).
About this article
Cite this article
Silver, P., Way, J., Arnold, F. et al. Engineering explored. Nature 509, 166–167 (2014). https://doi.org/10.1038/509166a
Published:

Issue Date:

DOI: https://doi.org/10.1038/509166a