Graphene-based sensors that measure strain, or deformation, can be stretched to twice their normal length. These could be useful for the development of wearable interactive electronics.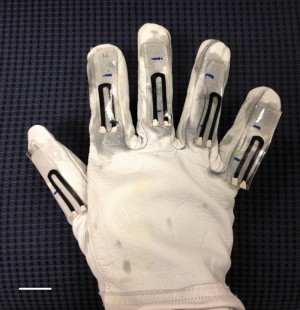 Previous such devices struggled to stretch by even 30%, making them too stiff to detect the full range of motion of human joints, for instance. Pooi See Lee and her colleagues at Nanyang Technological University in Singapore made their sensors out of nanopaper: crumpled graphene (atom-thick sheets of carbon) and tiny cellulose fibrils embedded in a stretchy material.
A glove developed by the researchers has strain sensors on each finger (pictured) for measuring the bending and stretching of separate digits. It could one day be used to perform surgery remotely and in other applications.
About this article
Cite this article
Extra-stretchy graphene gloves. Nature 505, 134 (2014). https://doi.org/10.1038/505134c
Published:

Issue Date:

DOI: https://doi.org/10.1038/505134c