Phylogenetic analysis, a method that biologists use to infer evolutionary relationships between species, can be used to trace the ancestry of folk tales such as Little Red Riding Hood.
Anthropologists have struggled to find ways to group similar tales from different cultures. Jamshid Tehrani at Durham University, UK, approached the problem by creating an evolutionary 'tree' similar to those used to reveal common ancestors among biological species.
Tehrani treated each of 58 variations on Little Red Riding Hood as a separate species and analysed 72 varying plot elements from each tale to produce a tree displaying the tales' relationships. Notably, the analysis showed that African versions of the story are closely related to another fairy tale, The Wolf and the Kids, whereas East Asian versions probably evolved by combining the two with local tales.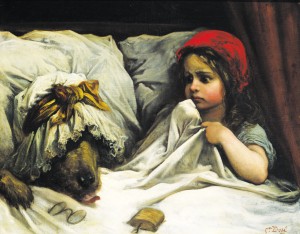 About this article
Cite this article
Biology tool uncloaks folk-tale evolution. Nature 503, 314 (2013). https://doi.org/10.1038/503314a
Published:

Issue Date:

DOI: https://doi.org/10.1038/503314a