A random array of holes etched in a semiconductor structure, consisting of a periodic series of thin layers, has been demonstrated that emits mid-infrared laser radiation. The device could have sensing and imaging applications.
Access options
Subscribe to Journal
Get full journal access for 1 year
$199.00
only $3.90 per issue
All prices are NET prices.
VAT will be added later in the checkout.
Tax calculation will be finalised during checkout.
Buy article
Get time limited or full article access on ReadCube.
$32.00
All prices are NET prices.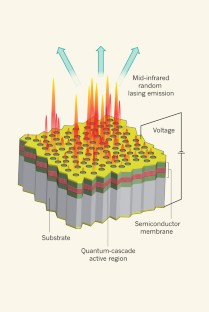 References
Maiman, T. H. Nature 187, 493–494 (1960).

Liang, H. K. et al. Adv. Mater. http://dx.doi.org/10.1002/adma.201303122 (2013).

Cao, H. Prog. Opt. 45, 317–370 (2003).

Wiersma, D. S. Nature Phys. 4, 359–367 (2008).

Ambartsumyan, R. V., Basov, N. G., Kryukov, P. G. & Letokhov, V. S. IEEE J. Quantum Electron. 2, 442–446 (1966).

Letokhov, V. S. Sov. Phys. JETP 26, 1246–1251 (1968).

Gmachl, C., Capasso, F., Sivco, D. L. & Cho, A. Y. Rep. Prog. Phys. 64, 1533–1601 (2001).

Redding, B., Choma, M. A. & Cao, H. Opt. Lett. 36, 3404–3406 (2011).

Redding, B., Choma, M. A. & Cao, H. Nature Photon. 6, 355–359 (2012).

Mahler, L. et al. Nature Photon. 4, 165–169 (2010).
About this article
Cite this article
Cao, H., Sheehan, S. A cascade laser's random walk. Nature 503, 200–201 (2013). https://doi.org/10.1038/503200a
Published:

Issue Date:

DOI: https://doi.org/10.1038/503200a