Drought has wreaked havoc throughout history, destroying crops and causing famine and conflict. And it could be getting worse.
Characterized by unusual and persistent dry weather, drought is caused by shifts in global weather patterns such as El Niño, but also increasingly by human-induced climate change. Identifying drought is difficult, however, so there is considerable uncertainty about whether it is getting any worse (See Figure 1).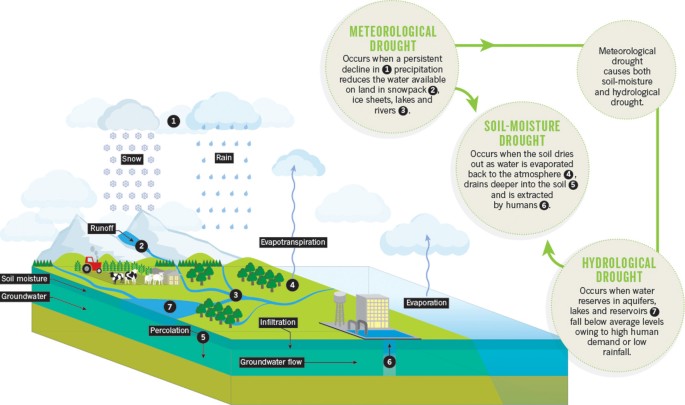 In 2011 and 2012, drought occurred on almost every continent, partly because of an unusually strong La Niña that caused record rainfall in Australia and led to severe water shortages in Sudan. Hundreds of millions of hectares of crops were destroyed, from wheat in Russia to sugar cane in India. The map (Figure 2) shows how rainfall deviated from the norm in this period and highlights the regions most affected by drought — many of which are major growing regions for the world's top four staple crops.
Serious droughts have occurred in Australia and Africa, among other regions, in recent decades, but more severe 'megadroughts' have occurred on virtually every continent throughout history. This timeline highlights some of the harshest (Figure 3).
In many regions, climate change is expected to increase the amount of land at risk from drought and heat, and will threaten more arable areas. Each 1°C rise in global warming could cut grain yield by as much as 5%. Figure 4 shows the expected increase in the spatial extent of drought (left), how this will affect the amount of suitable land available to grow the four staple crops (centre) and overall how sensitive these crops are to changes in temperature.
About this article
Cite this article
Heffernan, O. The dry facts. Nature 501, S2–S3 (2013). https://doi.org/10.1038/501S2a
Published:

Issue Date:

DOI: https://doi.org/10.1038/501S2a