Boost for advocates of open-access research articles.
Search the Internet for any research article published in 2011, and you have a 50–50 chance of downloading it for free. This claim — made in a report1 produced for the European Commission — suggests that many more research papers are openly available online than was previously thought. The finding, released on 21 August, is heartening news for advocates of open access. But some experts are raising their eyebrows at the high numbers.
There has been a steady move over the past few years towards getting research papers that are funded by government money into the public domain, and the best estimates2,3 for the proportion of papers free online run at around 30%. But these are underestimates, argues Éric Archambault, the founder and president of Science-Metrix, a consultancy in Montreal, Canada, that conducted the analysis for the European Commission.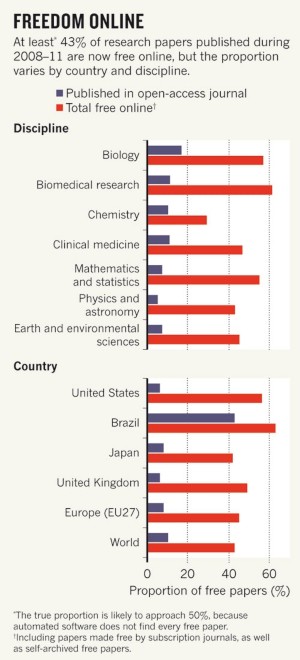 The firm initially asked a team led by Stevan Harnad, an open-access campaigner and cognitive scientist at the University of Quebec in Montreal, to check a random sample of 20,000 papers published in 2008 (from the Scopus database of papers run by Elsevier). It used a program designed by Yassine Gargouri, a computer scientist at the same university, to find free articles. The team found that 32% of the papers that it downloaded in December 2012 were freely available. But when Archambault's group checked 500 of these papers manually using Google and other search engines and repositories, the figure rose to 48%.
On the basis of this initial test, Science-Metrix applied its own automated software, or 'harvester', to 320,000 papers downloaded from2004 to 2011; the tool searches publishers' websites, institutional archives, repositories such as arXiv and PubMed Central, and sites such as the academic networking site ResearchGate and the search engine CiteSeerX.
It found that an average of 43% of articles published during 2008–11 are available online for free, with the results varying by country and discipline (see 'Freedom online'). But the true figure is probably higher, because the harvester does not pick up every free paper. When the incompleteness is adjusted for, the proportion of free articles from 2011 rises to about 50%, says Archambault.
The report "confirms my optimism", says Peter Suber, director of the Office for Scholarly Communication at Harvard University in Cambridge, Massachusetts, and a proponent of open access to research. He thinks that it reflects the experiences of working scientists today. "When researchers hit a paywall online, they turn to Google to search for free copies — and, increasingly, they are finding them," he says.
The rise of open-access journals is part of the explanation: the share of papers published in these journals rose from 4% in 2004 to 12% by 2011, the report found — agreeing with figures published last year by Bo-Christer Björk, who studies information systems at the Hanken School of Economics in Helsinki.
But the number of peer-reviewed manuscripts made free by other means has also increased, the report says. That includes those eventually made free — often a year after publication, and sometimes on a temporary promotional basis — by publishers that charge for subscription. But it also includes manuscripts that researchers themselves archive online on repositories and personal websites. Some of the articles, although free to read, may not meet formal definitions of open access because, for example, they do not include details on whether readers can freely reuse the material.
The report does not try to distinguish between types of manuscript, nor where and how they were posted, says Archambault. "The situation is so complex that it's very hard to measure."
Björk says that the latest measurements seem to have been carefully done, although he adds that because he does not have details of the robotic harvester's code, he cannot evaluate its method. "Experts on the subject would probably agree that the open-access share of papers, measured around a year and a half after publication, is currently at least 30%," he says. "Anything above that is dependent on ways of measuring, with this new study representing the highest estimate."
The report, which was not peer reviewed, calls the 50% figure for 2011 a "tipping point", a rhetorical flourish that Suber is not sure is justified. "The real tipping point is not a number, but whether scientists make open access a habit," he says.
Harnad thinks that the next step should be to obtain more accurate measures of when papers become free. "It's hardly a triumph if articles are only accessible after a one-year embargo," he says. Greater measurement accuracy is tricky to achieve, he adds, because Google routinely blocks all robotic harvesters. He believes that research on the growth of open access should be given special concessions.
The proportion of free online papers is likely to increase in the next few years. The European Commission says that, from 2014, the results of all research funded by the European Union must be open access. And in February, the US White House announced that government-funded research should be made free to read within 12 months of publication (see Nature 494, 414–415; 2013). Federal agencies are due to submit their plans for achieving this to the US Office of Science and Technology Policy by 22 August.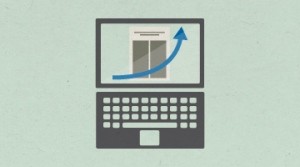 References
Archambault, E. et al. Proportion of Open Access Peer-Reviewed Papers at the European and World Levels — 2004–2011 (Science-Metrix, 2013).

Laakso, M. & Björk, B.-C. BMC Med. 10, 124 (2012).

Björk, B.-C., Laakso, M., Welling, P. & Paetau, P. J. Am. Soc. Inf. Sci. Technol. (in the press).
Related links
Related links
Related links in Nature Research
Related external links
About this article
Cite this article
Van Noorden, R. Half of 2011 papers now free to read. Nature 500, 386–387 (2013). https://doi.org/10.1038/500386a
Published:

Issue Date:

DOI: https://doi.org/10.1038/500386a
This article is cited by
Internal and Emergency Medicine (2017)

Scott C Edmunds
Peter Li
Laurie Goodman

International Journal on Digital Libraries (2017)

The Annals of Regional Science (2014)