The ice sheets retreated 10,000 years ago during a peak in solar radiation, but this peak was no larger than previous ones. A modelling study suggests why the ice sheets were unusually vulnerable to melting at that time. See Letter p.190
Access options
Subscribe to Journal
Get full journal access for 1 year
$199.00
only $3.90 per issue
All prices are NET prices.
VAT will be added later in the checkout.
Tax calculation will be finalised during checkout.
Buy article
Get time limited or full article access on ReadCube.
$32.00
All prices are NET prices.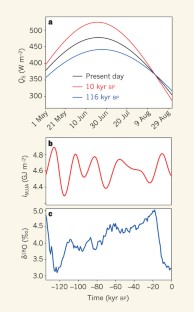 References
Imbrie, J. & Imbrie, K. P. Ice Ages: Solving the Mystery (Harvard Univ. Press, 1986).

Abe-Ouchi, A. et al. Nature 500, 190–193 (2013).

Huybers, P. Science 313, 508–511 (2006).

Berger, A., Mélice, J. L. & Loutre, M. F. Paleoceanography 20, PA4019 (2005).

Peltier, W. R. & Hyde, W. T. in The Physical Basis of Ice Sheet Modeling 247–260 (Int. Assoc. Hydrol. Sci., 1987).

Oerlmans, J. Nature 287, 430–432 (1980).

Lisiecki, L. E. & Raymo, M. E. Paleoceanography 20, PA1003 (2005).
About this article
Cite this article
Marshall, S. Solution proposed for ice-age mystery. Nature 500, 159–160 (2013). https://doi.org/10.1038/500159a
Published:

Issue Date:

DOI: https://doi.org/10.1038/500159a