Malaria parasites switch between developmental stages to facilitate their transmission to the mosquito vector. This switch seems to be initiated by parasite-to-parasite communication through membrane-bound vesicles.
Access options
Subscribe to Journal
Get full journal access for 1 year
$199.00
only $3.90 per issue
All prices are NET prices.
VAT will be added later in the checkout.
Tax calculation will be finalised during checkout.
Buy article
Get time limited or full article access on ReadCube.
$32.00
All prices are NET prices.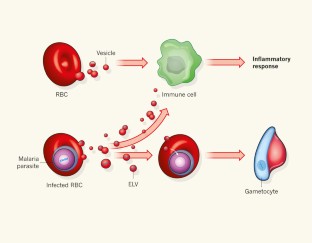 References
Swift, S. et al. Adv. Microb. Physiol. 45, 199–270 (2001).

Regev-Rudzki, N. et al. Cell 153, 1120–1133 (2013).

Mantel, P. Y. et al. Cell Host Microbe 13, 521–534 (2013).

MacGregor, P., Szöör, B., Savill, N. J. & Matthews, K. R. Nature Rev. Microbiol. 10, 431–438 (2012).

Dyer, M. & Day, K. P. Am. J. Trop. Med. Hyg. 68, 403–409 (2003).

Nantakomol, D. et al. J. Infect. Dis. 203, 700–706 (2011).

Couper, K. N. et al. PLoS Pathog. 6, e1000744 (2010).

Fairhurst, R. M., Bess, C. D. & Krause, M. A. Microbes Infect. 14, 851–862 (2012).

Turner, G. D. et al. Am. J. Pathol. 145, 1057–1069 (1994).

Bosman, G. J., Lasonder, E., Groenen-Dopp, Y. A., Willekens, F. L. & Werre, J. M. J. Proteomics 76, 203–210 (2012).

Day, K. P. et al. Proc. Natl Acad. Sci. USA 90, 8292–8296 (1993).

Gardiner, D. L. et al. Mol. Biochem. Parasitol. 140, 153–160 (2005).
About this article
Cite this article
Tilley, L., McConville, M. Sensing when it's time for sex. Nature 499, 38–39 (2013). https://doi.org/10.1038/499038a
Published:

Issue Date:

DOI: https://doi.org/10.1038/499038a