Forests recovering from human disturbance act as a substantial sink that helps to absorb anthropogenic carbon dioxide emissions. Simulations suggest that nutrient limitation reduces that effect.
Access options
Subscribe to Journal
Get full journal access for 1 year
$199.00
only $3.90 per issue
All prices are NET prices.
VAT will be added later in the checkout.
Tax calculation will be finalised during checkout.
Buy article
Get time limited or full article access on ReadCube.
$32.00
All prices are NET prices.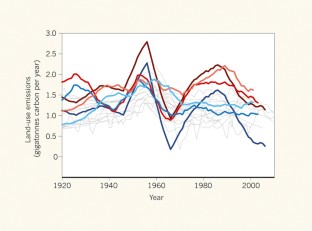 References
Jain, A. K., Meiyappan, P., Song, Y. & House, J. I. Glob. Change Biol. http://dx.doi.org/10.1111/gcb.12207 (2013).

Friedlingstein, P. & Prentice, I. C. Curr. Opin. Environ. Sustain. 2, 251–257 (2010).

Houghton, R. A. et al. Biogeosciences 9, 5125–5142 (2012).

Hurtt, G. et al. Clim. Change 109, 117–161 (2011).

Churkina, G., Trusilova, K., Vetter, M. & Dentener, F. Carbon Balance Mgmt 2, 5 (2007).

Zaehle, S., Ciais, P., Friend, A. D. & Prieur, V. Nature Geosci. 4, 601–605 (2011).

Houghton, R. A. et al. Ecol. Monogr. 53, 235–262 (1983).

Peters, G. P. et al. Nature Clim. Change 3, 4–6 (2013).
About this article
Cite this article
Pongratz, J. Plant a tree, but tend it well. Nature 498, 47–48 (2013). https://doi.org/10.1038/498047a
Published:

Issue Date:

DOI: https://doi.org/10.1038/498047a