A marine arthropod with long, three-pronged claws has been described from 505-million-year-old fossils.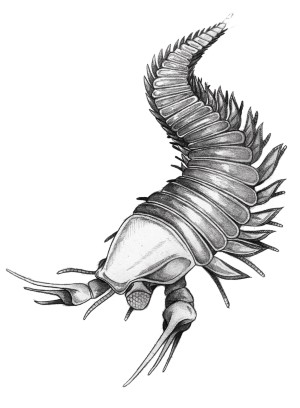 David Legg at Imperial College London named the creature Kootenichela deppi after Kootenay National Park in British Columbia, Canada, where the fossils were found; chela, the Latin for claw; and Johnny Depp, the actor who played the blade-fingered Edward Scissorhands in the film of the same name. Fossils have been given similarly whimsical names before; for example, one arthropod was called Han solo.
K. deppi (pictured) was described on the basis of three specimens. Legg puts the sharp-handed beast in the arthropod class Megacheira (great appendage). He also reassigns Worthenella cambria, which was originally described in 1911 as a segmented worm, as a sister megacheiran.
About this article
Cite this article
Fossil arthropod with scissor hands. Nature 497, 539 (2013). https://doi.org/10.1038/497539b
Comments
By submitting a comment you agree to abide by our Terms and Community Guidelines. If you find something abusive or that does not comply with our terms or guidelines please flag it as inappropriate.