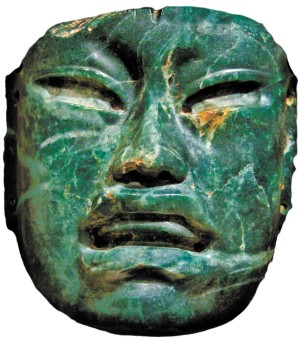 The precious stones jade and ruby can be used to identify the sites of ancient collisions of tectonic plates.
Robert Stern at the University of Texas at Dallas and his colleagues suggest that these two substances could be called "plate tectonic gemstones". Jadeitite, a type of jade, forms where one tectonic plate plunges beneath another. Fluids that rise from the diving slab of oceanic crust condense to form the gemstone (pictured in an Olmec mask from southern Mexico — the site of one such subduction zone). By contrast, ruby forms where continental crust rich in aluminium collides, as in Southeast Asia.
These stones should be recognized not only for their beauty but also for what they reveal about their tectonic setting, the authors say.
About this article
Cite this article
Gemstones from the deep. Nature 497, 538 (2013). https://doi.org/10.1038/497538a