Political squabbles leave US science agencies without heads.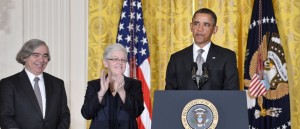 US Senate Republicans have lots of questions for Gina McCarthy, President Barack Obama's nominee to head the Environmental Protection Agency (EPA) — 1,038 of them, to be exact. Many target alleged lapses in the EPA's policies regarding transparency and information access, but they also reflect a more general distrust of the agency that regulates greenhouse-gas emissions, sets water-pollution standards and monitors air quality.
McCarthy, currently the EPA's assistant administrator in charge of air and radiation, has had plenty of time to ponder the lawmakers' queries since her nomination on 7 March. She has already waited weeks longer for confirmation by the Senate than any would-be chief in the EPA's 43-year history (see 'Stalling tactics'). Obama's new energy department secretary, physicist Ernest Moniz, didn't fare much better. He was confirmed last week, but only after a key senator withdrew an objection that had held up the confirmation for more than two months.
In his first term, Obama was able to install a science 'dream team', with much fanfare and little opposition (see Nature 489, 488–492; 2012). But at the start of his second term, Obama is facing a number of key science-policy decisions without agency heads. The delays are not all due to Congress. Partly because of the increasingly complex background checks needed to prepare for congressional scrutiny, the Obama administration has not yet even nominated new heads for the National Oceanic and Atmospheric Administration, the US Geological Survey, and the National Science Foundation (NSF), whose previous directors have all stepped down.
Ross Baker, a political scientist at Rutgers University in New Brunswick, New Jersey, says the McCarthy delays are a prime example of 'slow-walking' — stalling a nomination in the hopes that a nominee will withdraw his or her name. Simple tactics can be enough: Republicans boycotted a 9 May committee meeting that would have allowed McCarthy's nomination to advance to the full Senate. Even answering senators' questions can end up adding days to the process. "It's basically death by a thousand cuts," Baker says. McCarthy's nomination finally seems to be on course to a vote by the full Senate. But as Nature went to press, there is no word on when that vote might come.
To Calvin Mackenzie, a political scientist at Colby College in Waterville, Maine, who studies the presidential appointment process, the current stalemate is the culmination of a trend that began decades ago. Over the years, both major US political parties have taken advantage of Senate rules and customs to hinder nominations. During the presidency of George W. Bush, for example, Senate Democrats stalled the nomination of EPA chief Michael Leavitt for several weeks. "There is blood on the hands of both parties here," Mackenzie says. "The trouble with a scorched-earth policy is it keeps getting worse."
Some observers fear that the political manoeuvring will start to have an impact on US research. Like the rest of the federal government, US science agencies are grappling with the impact of automatic budget cuts known as sequestration, which has chopped roughly 5% from their funding to 30 September and is set to continue until 2021 (see page 419). Neal Lane, a former NSF director and science adviser to President Bill Clinton, says that having only an acting director can make budget negotiations problematic for agencies.
The EPA is finalizing a new rule to limit carbon dioxide emissions from power plants, and it is also advising the Department of State over whether to permit the construction of the Keystone XL pipeline to carry oil from the Canadian tar sands to the Gulf of Mexico. Those efforts are likely to be delayed until the EPA and other science agencies are again run by permanent leaders, says Lane, now at Rice University in Houston, Texas.
That's not to say interim heads aren't experienced. "They know how the agency works and they can keep the trains moving," says Lane. "But it's a serious problem if that acting arrangement lasts very long, because large policy decisions are generally on hold during that period."
Jeffrey Holmstead, who headed the EPA's Office of Air and Radiation during the George W. Bush administration, disagrees. "A lot depends on the reputation and stature" of an agency's interim chief, says Holmstead, head of the environmental-strategies group at the law firm Bracewell & Giuliani in Washington DC. He notes that the EPA eased clean-air regulations for older coal-fired power plants during a four-month period in 2003 when the agency was run by an acting administrator.
In the meantime, those watching the McCarthy nomination say they are cautiously optimistic that her long wait will end in confirmation. "I wouldn't be surprised if some day she will be confirmed," Mackenzie says. But he adds,"With these things, who knows?"
About this article
Cite this article
Morello, L. Log-jam in agency confirmations. Nature 497, 418–419 (2013). https://doi.org/10.1038/497418a
Published:

Issue Date:

DOI: https://doi.org/10.1038/497418a