Neurons use molecular motors to power the transport of cargoes along their axonal extensions. Fresh evidence challenges the view that cellular organelles called mitochondria are the main energy providers for this process.
This is a preview of subscription content
Access options
Subscribe to Journal
Get full journal access for 1 year
$199.00
only $3.90 per issue
All prices are NET prices.
VAT will be added later in the checkout.
Tax calculation will be finalised during checkout.
Buy article
Get time limited or full article access on ReadCube.
$32.00
All prices are NET prices.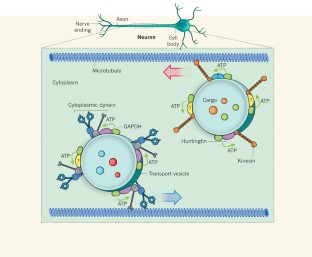 References
Zala, D. et al. Cell 152, 479–491 (2013).

MacAskill, A. F. & Kittler, J. T. Trends Cell Biol. 20, 102–112 (2010).

Niethammer, P., Kueh, H. Y. & Mitchison, T. J. Curr. Biol. 18, 586–591 (2008).

Caviston, J. P. & Holzbaur, E. L. Trends Cell Biol. 19, 147–155 (2009).

Ikemoto, A., Bole, D. G. & Ueda, T. J. Biol. Chem. 278, 5929–5940 (2003).

Tristan, C., Shahani, N., Sedlak, T. W. & Sawa, A. Cell Signal. 23, 317–323 (2011).

Zhu, Y.-B. & Sheng, Z.-H. J. Biol. Chem. 286, 23432–23440 (2011).

Seidler, N. W. Adv. Exp. Med. Biol. 985, 249–267 (2013).

Miller, R. et al. Neurology 69, 776–784 (2007).
About this article
Cite this article
Schiavo, G., Fainzilber, M. Alternative energy for neuronal motors. Nature 495, 178–179 (2013). https://doi.org/10.1038/495178a
Published:

Issue Date:

DOI: https://doi.org/10.1038/495178a