Before Father Christmas sets off from the North Pole, he will want to know if his flight will be disrupted by polar lows — storms (pictured) that afflict subpolar seas. Unfortunately for him, the effects of polar lows are not usually included in climate and seasonal forecasting models. Writing in Nature Geoscience, Condron and Renfrew report that they should be (A. Condron and I. A. Renfrew Nature Geosci. http://dx.doi.org/10.1038/ngeo1661; 2012).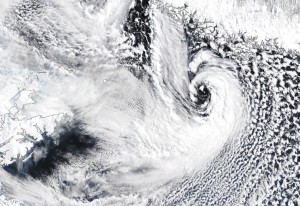 Polar lows are typically too small (less than 250 kilometres in diameter) and fleeting (24–48 hours in duration) to be well resolved in global meteorological and climate models. Nevertheless, their intensity is often high enough to affect convection in the underlying ocean. Deep open-ocean convection is one of the mechanisms that renews the North Atlantic Deep Water, the main water mass that drives large-scale ocean circulation in the Atlantic Ocean.
Condron and Renfrew used state-of-the-art computational models to simulate circulation in the northeast Atlantic during 1978–98, in the presence or absence of polar lows. They found that models that incorporated the effects of the storms indicated more open-ocean convection, at greater depths, than those that omitted polar lows.
Furthermore, the strengths of two gyres — large systems of rotating ocean currents — in the region were more frequently high when the effects of polar lows were simulated. This in turn increased the renewal of deep water in the Greenland Sea, the transport of that water flowing south across the Greenland–Iceland–Scotland ocean ridge, and the northward movement of heat to Europe and North America.
The authors conclude that the effects of polar lows should be incorporated in ocean, climate and seasonal forecasting models. They also point out that the Intergovernmental Panel on Climate Change predicts that these storms will shift northwards in the future, and will occur less frequently than now. If so, this could greatly affect the deep waters of the North Atlantic, potentially reducing their southward flow.
About this article
Cite this article
Mitchinson, A. Go with the lows. Nature 492, 365 (2012). https://doi.org/10.1038/492365a
Published:

Issue Date:

DOI: https://doi.org/10.1038/492365a