Acrylamide levels still too high in Europe's food, says report.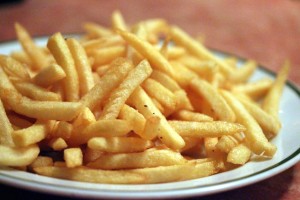 The rich, roasted aroma of coffee or the golden-brown colour of crispy French fries are enough to set most mouths watering. But the high-temperature cooking that gives these foods their alluring taste, scent and texture also adds a sting: acrylamide, a probable human carcinogen.
Swedish scientists discovered in 2002 that a wide range of baked and fried goods contain worryingly high levels of acrylamide1 — a simple organic molecule that is a neuro­toxin and carcinogen in rats. The finding sparked an international effort to reduce concentrations of the chemical by changing ingredients and cooking methods.
Ten years on, a report2 from the European Food Safety Authority (EFSA) in Parma, Italy, suggests that this effort has stalled, amid patchy monitoring, uncertainty about acrylamide's true health effects and the challenge of weeding out a mole­cule present in hundreds of products.
Soon after the Swedish discovery, two teams — one led by chemist Donald Mottram at the University of Reading, UK, the other by Richard Stadler at Nestlé in Lausanne, Switzer­land — unpicked the chemistry behind the problem3,4. They found that sugars and amino acids such as asparagine found in potatoes and cereals were making acrylamide (C3H5NO) as a by-product of the Maillard reaction, the very process that generates the heady blend of colour, flavour and taste in cooked foods.
Subsequent epidemiological studies involving tens of thousands of people have looked for links between acrylamide and various forms of cancer in humans, including breast5 and colorectal cancer6. For the most part, the results have been negative. In 2007, however, a Dutch study7 of almost 2,600 women found that, among those who had never smoked, women consuming about 40 micrograms of acrylamide per day doubled their risk of developing cancers of the womb or ovaries, compared with those taking in roughly 10 μg per day. And last month, a study8 showed that women who ate acrylamide-rich food during pregnancy tended to give birth to smaller babies.
Despite the uncertainties over the dangers of acrylamide, Europe's legislators and food producers vowed to take action. Since 2005, the industry group FoodDrinkEurope has maintained a 'toolbox' of tactics to help reduce acrylamide levels, such as changing potato varieties or storage conditions, and reducing cooking temperatures. According to Beate Kettlitz, the group's director of food policy, 90% of large and medium-sized companies in Europe now select potato varieties with low levels of the sugars that can form acrylamide, and all control French-fry cooking times to limit browning.
In 2007, the European Commission instructed the EFSA to collate yearly data on acrylamide levels. Last week, the authority released the most recent figures2 showing that acrylamide levels in finished food products hardly changed between 2007 and 2010. There have been isolated successes: in soft bread, for example, mean acrylamide levels dropped from 75 to 30 μg per kilogram. But for crispbreads, the mean actually rose, from 232 to 249 μg kg−1. Overall, 6–17% of the food categories tested exceeded 'indicative values of concern'9 set out by the European Commission in 2011 (see 'Would you like acrylamide with that?').
Mottram, who has worked closely with the food industry to reduce acrylamide levels, says that he is disappointed the report does not reflect the huge strides taken by industry, not least in the period 2002–06.
The EFSA acknowledges that assessing whether the industry's efforts are bearing fruit will take many years of more consistent sampling. For the current report, the agency relied on European Union (EU) member states to collect and submit acrylamide data. The response was inconsistent: only 16 of 25 countries provided data for every year of the survey, and submissions also waned over time. Despite submitting data every year, Belgium provided no figures at all on its beloved frites, for example.
Since 2010, the EU has required member countries to collect acrylamide data, and the EFSA report suggests that monitoring is improving as a result. Europe certainly takes acrylamide more seriously than other parts of the world. The US Food and Drug Administration has not routinely collected data on acrylamide in food since 2006, although it is currently calling on the food industry to submit more data, says agency spokesman Sebastian Cianci.
Mottram is also developing new ways to tackle the problem. In August, he showed that acrylamide levels in French fries can be predicted from the cooking methods and the presence of key precursor chemicals in the partially cooked, frozen fries used by fast-food restaurants10. This model revealed that a change to the potato blanching process could make a big difference to the final acrylamide level. "The industry is not giving up on this," he says.
Plant breeding and genetic modification could also help, by creating varieties with lower levels of acrylamide precursors. Nevertheless, the chemical will always be present in our food, says Margareta Törnqvist from Stockholm University, who led the team that originally discovered the problem. "Acrylamide is natural; you can't reduce it to zero," she says.
References
Tareke, E., Rydberg, P., Karlsson, P., Eriksson, S. & Törnqvist, M. J. Agric. Food Chem. 50, 4998–5006 (2002).

European Food Safety Authority EFSA J. 10, 2938 (2012).

Mottram, D. S., Wedzicha, B. L. & Dodson, A. T. Nature 419, 448–449 (2002).

Stadler, R. H. et al. Nature 419, 449–450 (2002).

Wilson, K. M. et al. Am. J. Epidemiol. 169, 954–961 (2009).

Larsson, S. C., Åkesson, A., Bergkvist, L. & Wolk, A. Eur. J. Cancer 45, 513–516 (2009).

Hogervorst, J. G., Schouten, L. J., Konings, E. J., Goldbohm, R. A. & van den Brandt, P. A. Cancer Epidemiol. Biomarkers Prev. 16, 2304–2313 (2007).

Pedersen, M. et al. Environ. Health Perspect. http://dx.doi.org/10.1289/ehp.1205327 (2012).

Commission Recommendation of 10.1.2011 on Investigations into the Levels of Acrylamide in Food (European Commission, 2011); available at http://go.nature.com/tkdm89

Parker, J. K. et al. J. Agric. Food Chem. 60, 9321–9331 (2012).
Related links
Related links
Related links in Nature Research
Related external links
About this article
Cite this article
Sanderson, K. Bid to curb fried-food chemical goes cold. Nature 491, 22–23 (2012). https://doi.org/10.1038/491022a
Published:

Issue Date:

DOI: https://doi.org/10.1038/491022a