Past research implied that positive feedback might exist between climate change and greenhouse-gas emissions from soil. A study finds that drought-induced declines in such emissions from tropical forests could counter climate change.
Your institute does not have access to this article
Access options
Subscribe to Journal
Get full journal access for 1 year
$199.00
only $3.90 per issue
All prices are NET prices.
VAT will be added later in the checkout.
Tax calculation will be finalised during checkout.
Buy article
Get time limited or full article access on ReadCube.
$32.00
All prices are NET prices.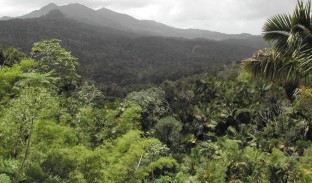 References
Le Quéré, C. et al. Nature Geosci. 2, 831–836 (2009).

Montzka, S. A., Dlugokencky, E. J. & Butler, J. H. Nature 476, 43–50 (2011).

Wood, T. E. & Silver, W. L. Glob. Biogeochem. Cycles 26, GB3005 http://dx.doi.org/10.1029/2010GB004014 (2012).

Cox, P. M. et al. Theor. Appl. Climatol. 78, 137–156 (2004).

Neelin, J. D., Münnich, M., Su, H., Meyerson, J. E. & Holloway, C. E. Proc. Natl Acad. Sci. USA 103, 6110–6115 (2006).

Matson, P. A. & Vitousek, P. M. BioScience 40, 667–672 (1990).

Townsend, A. R., Asner, G. P. & Cleveland, C. C. Trends Ecol. Evol. 23, 424–431 (2008).

Vitousek, P. M. et al. Ecosystems 6, 762–772 (2003).

Porder, S. & Hilley, G. E. Biogeochemistry 102, 153–166 (2011).

Clark, D. A., Piper, S. C., Keeling, C. D. & Clark, D. B. Proc. Natl Acad. Sci. USA 100, 5852–5857 (2003).

Zhao, M. & Running, S. W. Science 329, 940–943 (2010).
About this article
Cite this article
Cleveland, C., Sullivan, B. Drought and tropical soil emissions. Nature 489, 211–212 (2012). https://doi.org/10.1038/489211a
Published:

Issue Date:

DOI: https://doi.org/10.1038/489211a