The theory that predicts how the lightest elements formed after the Big Bang has hitherto failed to explain the amount of cosmic lithium. The detection of interstellar lithium beyond the Milky Way gives this theory a boost. See Article p.121
Access options
Subscribe to Journal
Get full journal access for 1 year
$199.00
only $3.90 per issue
All prices are NET prices.
VAT will be added later in the checkout.
Tax calculation will be finalised during checkout.
Buy article
Get time limited or full article access on ReadCube.
$32.00
All prices are NET prices.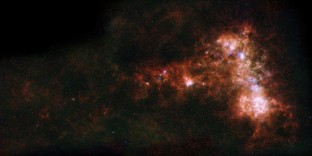 References
Howk, J. C., Lehner, N., Fields, B. D. & Mathews, G. J. Nature 489, 121–123 (2012).

Steigman, G. Annu. Rev. Nucl. Part. Sci. 57, 463–491 (2007).

Spite, M. & Spite, F. Nature 297, 483–485 (1982).

Dunkley, J. et al. Astrophys. J. Suppl. 180, 306–329 (2009).

Bonifacio, P. et al. Astron. Astrophys. (in the press); preprint at http://arxiv.org/abs/1204.1641 (2012).

Israelian, G. et al. Nature 462, 189–191 (2009).
About this article
Cite this article
Israelian, G. The lithium problem. Nature 489, 37–38 (2012). https://doi.org/10.1038/489037a
Published:

Issue Date:

DOI: https://doi.org/10.1038/489037a