A 'smart' suture that doubles as a heater and a thermometer could promote wound healing.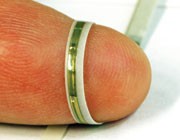 John Rogers of the University of Illinois at Urbana-Champaign and his colleagues have developed a prototype silicon-based suture (pictured) that is long, thin and flexible enough to be sewn into a wound. The suture contains circuit elements that can both heat tissue and sense its temperature. This enables the device to keep the wound at an ideal temperature for healing and to detect temperature increases associated with infection.
The researchers hope to develop sutures with other functions, such as programmable drug release.
About this article
Cite this article
Smart way to seal cuts. Nature 488, 561 (2012). https://doi.org/10.1038/488561a
Comments
By submitting a comment you agree to abide by our Terms and Community Guidelines. If you find something abusive or that does not comply with our terms or guidelines please flag it as inappropriate.