Most proteins in the human body are difficult targets for small-molecule drugs. This problem may have been overcome with the discovery of molecules that induce protein degradation, suggesting fresh, modular approaches to drug discovery.
Access options
Subscribe to Journal
Get full journal access for 1 year
$199.00
only $3.90 per issue
All prices are NET prices.
VAT will be added later in the checkout.
Tax calculation will be finalised during checkout.
Rent or Buy article
Get time limited or full article access on ReadCube.
from$8.99
All prices are NET prices.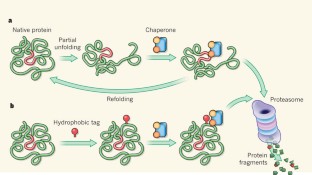 References
1

Neklesa, T. K. et al. Nature Chem. Biol. 7, 538–543 (2011).

2

Tae, H. S. et al. ChemBioChem 13, 538–541 (2012).

3

Long, M. J. C., Gollapalli, D. R. & Hedstrom, L. Chem. Biol. 19, 629–637 (2012).

4

Russ, A. P. & Lampel, S. Drug Discov. Today 10, 1607–1610 (2005).

5

Kauffman, M. G., Molineaux, C. J., Kirk, C. J. & Crews, C. M. in Cancer: Principles & Practice of Oncology (eds DeVita, V. T. Jr, Lawrence, T. S. & Rosenberg, S. A.) 441–449 (Lippincott Williams & Wilkins, 2011).

6

Schneekloth, J. S. Jr et al. J. Am. Chem. Soc. 126, 3748–3754 (2004).

7

Kleiner, R. E., Dumelin, C. E. & Liu, D. R. Chem. Soc. Rev. 40, 5707–5717 (2011).

8

Clark, M. A. et al. Nature Chem. Biol. 5, 647–654 (2009).
About this article
Cite this article
Neklesa, T., Crews, C. Greasy tags for protein removal. Nature 487, 308–309 (2012). https://doi.org/10.1038/487308a