Jellyfish move using a set of muscles that look remarkably similar to striated muscles in vertebrates. However, new data show that the two muscle types contain different molecules, implying that they evolved independently. See Letter p.231
Access options
Subscribe to Journal
Get full journal access for 1 year
$199.00
only $3.90 per issue
All prices are NET prices.
VAT will be added later in the checkout.
Rent or Buy article
Get time limited or full article access on ReadCube.
from$8.99
All prices are NET prices.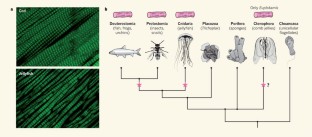 References
1

Schmidt-Rhaesa, A. The Evolution of Organ Systems (Oxford Univ. Press, 2007).

2

Seipel, K. & Schmid, V. Dev. Biol. 282, 14–26 (2005).

3

Steinmetz, P. et al. Nature 487, 231–234 (2012).

4

Edgecombe, G. D. et al. Organisms Diversity Evol. 11, 151–172 (2011).

5

Mackie, G., Mills, C. & Singla, C. Zoomorphology 107, 319–337 (1988).

6

Passamaneck, Y. J., Furchheim, N., Hejnol, A., Martindale, M. Q. & Lüter, C. EvoDevo 2, 6 (2011).
About this article
Cite this article
Hejnol, A. Muscle's dual origins. Nature 487, 181–182 (2012) doi:10.1038/487181a
Further reading
William Bains

&

Dirk Schulze-Makuch

Life (2016)
Comments
By submitting a comment you agree to abide by our Terms and Community Guidelines. If you find something abusive or that does not comply with our terms or guidelines please flag it as inappropriate.