External groups hope scrutiny will restrain government.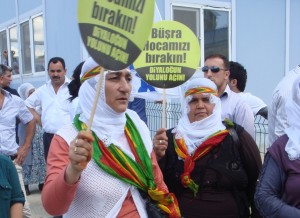 Turkey is upping the pressure on scientists and students who question its policies, and international human-rights advocates are taking notice.
In the past few years, the government has clamped down on the independence of the Scientific and Technological Research Council of Turkey and the Turkish Academy of Sciences (see Nature 477, 131; 2011). It has also harassed and jailed individual academics and students. Now, an international network is launching a campaign to support Turkish scientists whose academic rights it considers to have been violated. The network has issued a report and this week carried out its first concerted street action, when more than 100 of its supporters joined a large protest at the opening of the trial of Büşra Ersanlı, a political scientist at Marmara University in Istanbul.
Ersanlı was arrested last October, under Turkey's 2006 anti-terrorist laws. A member of the legal Peace and Democracy Party, which promotes the rights of Turkey's Kurdish minority, she denies charges of supporting an outlawed separatist terrorist organization, the Kurdish Workers' Party.
Authorities have tried to prevent other scientists from speaking out against industrial interests, says Nesrin Uçarlar, a political scientist who has worked with Ersanlı at Marmara University. One targeted researcher is Onur Hamzaoğlu, an epidemiologist at Kocaeli University in İzmit, who revealed that the region's industrial basin has high pollution levels and increased cancer rates. Hamzaoğlu is now being investigated for unethical behaviour leading to public alarm, and faces a jail sentence.
Ersanlı will be tried alongside 204 others charged with illegally promoting Kurdish rights. Her arrest prompted colleagues in France to launch the International Workgroup on Academic Liberty and Freedom of Research in Turkey (GIT) on 21 November. The group is also drawing attention to the more than 770 students who are in prison in Turkey, most arrested for protesting against government policies, including the introduction of university fees.
"Freedom of expression in academia is being increasingly clamped down on in Turkey," says Vincent Duclert, a historian at the School for Advanced Studies in the Social Sciences in Paris and a founder of the network. "The GIT initiative will keep the cases in the eye of the international public, and this may bring pressure on Turkish authorities."
Uçarlar, whose PhD thesis on Kurdish language rights was derecognized by Marmara University in 2008, launched GIT's node in Turkey last December. Since then, six further branches have been established in North America and Europe.
GIT Turkey issued a report last week listing a selection of cases of academic rights violations, from arrests on terrorist charges to dismissals for trade-union membership and prosecution for statements deemed harmful to industry. "We don't really know how many cases are out there, because university staff are afraid to speak out," says Uçarlar. "But now we have a platform, people are starting to contact us about their experiences." The group has sent its report to the European Parliament, and has asked that the European Union's annual report on Turkey's bid for membership rates the country on freedom of expression for academics.
Erol Gelenbe, a computer scientist at Imperial College London who was educated in Turkey, points out that although the erosion of academic freedom in the country has accelerated in the past two years, "there has always been little tolerance for independent thinking". He says that at different times over the past few decades, "academics have been expelled from universities either because they were to the right or because they were to the left of the particular government".
Uçarlar agrees that the political situation is "complicated", with right-wingers, left-wingers and staunch secularists all under attack. "I never agreed with the policies of Kemal Gürüz," she says, referring to a former president of the Turkish higher-education council who enforced a ban on wearing the Islamic headscarf in Turkish universities. "But I'm appalled he was arrested on 25 June without credible charges."
Ayşe Erzan, a GIT supporter and a physicist at the Istanbul Technical University who co-founded an alternative science academy when the Turkish Academy of Sciences was put under government management last year, says that "people are getting nervous and there is a feeling we need to resist further slide into undemocratic measures".
Related links
Related links
Related links in Nature Research
Related external links
About this article
Cite this article
Abbott, A. Turkey cracks down on academic freedom. Nature 487, 19–20 (2012). https://doi.org/10.1038/487019a
Published:

Issue Date:

DOI: https://doi.org/10.1038/487019a