The number of people living with, and dying of, diabetes across the world is shocking: 90 million Chinese live with diabetes and 1.3 million died in 2011; 23% of Qatari adults have developed diabetes. Here we chart the extent of the global epidemic and present some of the implications for national governments by Tony Scully.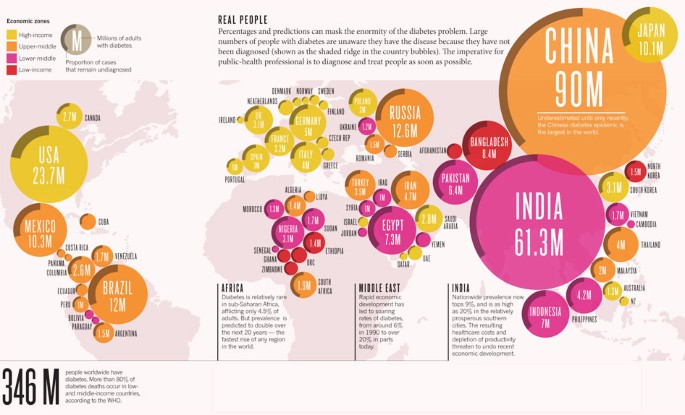 1

Type 2 diabetes accounts for almost 90% of all cases of diabetes in adults worldwide. In general, as countries become richer, people eat a more sugar- and fat-rich diet and are less physical active — and the incidence of diabetes rises. On average, nearly 8% of adults living in high-income countries (see map for country classification) have diabetes. It is, however, upper-middle and middle-income countries that have the highest prevalence of diabetes; over 10% of adults in these countries have the condition.

2

In high-income countries, diabetes primarily addicts people over 50 years of age. But in middle-income countries, the highest prevalence is in younger people — the most productive age groups. As these people age, and as life expectancies increase, prevalence in older age groups will rise further. This trend will put a huge burden on healthcare systems and governments.

3

The mortality rate of diabetes varies sharply with the prosperity of the country. In 2011, the disease caused more than 3.5 million deaths in middle-income countries, of which more than 1 million were in China and just less than a million were in India. Approximately 1.2 adults die of a diabetes-associated illness per 1,000 cases in 2011 in low- and middle-income countries: more than double the mortality rate of high-income countries. Mortality rates are much lower in high-income countries with the greater healthcare recourses, but those tolls are still high: approximately 180,000 people died in the United States in 2011, for example.

4

Unsurprisingly, high-income countries spent vastly more on diabetes-related costs in 2011 than lower-income countries. In developing countries, the looming costs in human lives, healthcare expenditure and lost productivity threatens to undo recent economic gains.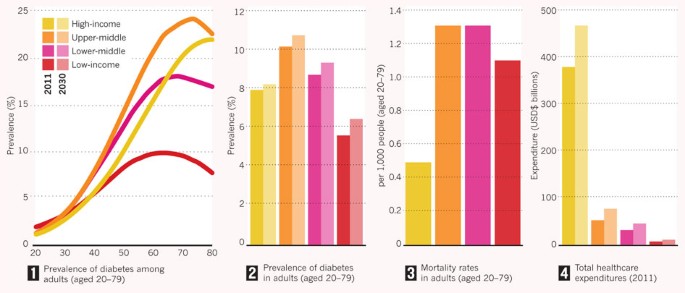 References
Guariguata, L. et al. IDF Diabetes Atlas: Global estimates of the prevalence of diabetes for 2011 and 2030. Diabetes Research and Clinical Practice 94, 311—321 (2011).10.1016/j.diabres.2011.10.029

Guariguata, L. et al. The International Diabetes Federation diabetes atlas methodology for estimating global and national prevalence of diabetes in adults. Diabetes Research and Clinical Practice 94, 322—332 (2011).10.1016/j.diabres.2011.10.040
About this article
Cite this article
Scully, T. Diabetes in numbers. Nature 485, S2–S3 (2012). https://doi.org/10.1038/485S2a
Published:

Issue Date:

DOI: https://doi.org/10.1038/485S2a