Some species evolve to resemble another species so as to protect themselves from predation, but this mimicry is often imprecise. An analysis of hoverflies suggests why imperfect imitation persists in the face of natural selection. See Letter p.461
Access options
Subscribe to Journal
Get full journal access for 1 year
$199.00
only $3.90 per issue
All prices are NET prices.
VAT will be added later in the checkout.
Tax calculation will be finalised during checkout.
Rent or Buy article
Get time limited or full article access on ReadCube.
from$8.99
All prices are NET prices.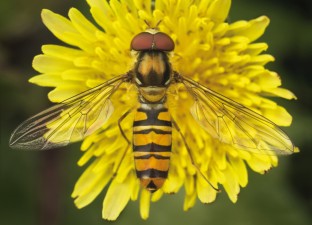 References
1

Bates, H. W. Trans. Linn. Soc. 23, 495–556 (1862).

2

Burkhardt, F., Evans, S. & Pearn, A. M. (eds) Evolution: Selected Letters of Charles Darwin 1860–1870 (Cambridge Univ. Press, 2008).

3

Ruxton, G. D., Sherratt, T. N. & Speed, M. P. Avoiding Attack: The Evolutionary Ecology of Crypsis, Warning Signals & Mimicry (Oxford Univ. Press, 2004).

4

Forbes, P. Dazzled and Deceived: Mimicry and Camouflage (Yale Univ. Press, 2009).

5

Penney, H. D., Hassall, C., Skevington, J. H., Abbott, K. R. & Sherratt, T. N. Nature 483, 461–464 (2012).

6

Gilbert, F. in Insect Evolutionary Ecology (eds Fellowes, M. D. E., Holloway, G. J. & Rolff, J.) 231–288 (CABI, 2005).

7

Harper, G. R. Jr & Pfennig, D. W. Proc. R. Soc. Lond. B 274, 1955–1961 (2007).

8

Alexandrou, M. A. et al. Nature 469, 84–88 (2011).

9

Estrada, C. & Jiggins, C. D. J. Evol. Biol. 21, 749–760 (2008).

10

Pfennig, D. W. & Kikuchi, D. W. Curr. Zool. (in the press).
About this article
Cite this article
Pfennig, D., Kikuchi, D. Life imperfectly imitates life. Nature 483, 410–411 (2012). https://doi.org/10.1038/483410a