Logic gates are the elementary building blocks of computers. The finding that a single logic gate may drive a refrigerator is a beautiful demonstration that information-processing devices can have useful thermodynamic properties.
Your institute does not have access to this article
Access options
Subscribe to Journal
Get full journal access for 1 year
$199.00
only $3.90 per issue
All prices are NET prices.
VAT will be added later in the checkout.
Tax calculation will be finalised during checkout.
Buy article
Get time limited or full article access on ReadCube.
$32.00
All prices are NET prices.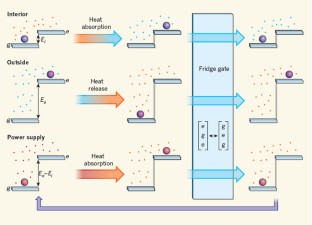 References
Skrzypczyk, P., Brunner, N., Linden, N. & Popescu, S. J. Phys. A 44, 492002 10.1088/1751-8113/44/49/492002 (2011).

Toffoli, T. in Automata, Languages and Programming, 7th Colloq. (eds de Bakker, J. W. & van Leeuwen, J.) 632–644 (Springer, 1980).

Landauer, R. IBM J. Res. Dev. 5, 183–191 (1961).

Bennett, C. Int. J. Theor. Phys. 21, 905–940 (1982).

Schulman, L. & Vazirani, U. in Proc. 31st Annu. ACM Symp. Theory of Computing (eds Vitter, J. S., Larmore, L. & Leighton, T.) 322–329 (ACM Press, 1999).

del Rio, L., Aberg, J., Renner, R., Dahlsten, O. & Vedral, V. Nature 474, 61–63 (2011).

Boykin, P. O., Mor, T., Roychowdhury, V., Vatan, F. & Vrijen, R. Proc. Natl Acad. Sci. USA 99, 3388–3393 (2002).

Cory, D. G. et al. Phys. Rev. Lett. 81, 2152–2155 (1998).

Lanyon, B. P. et al. Nature Phys. 5, 134–140 (2009).

Monz, T. et al. Phys. Rev. Lett. 102, 040501 (2009).

Fedorov, A., Steffen, L., Baur, M., da Silva M. P. & Wallraff, A. Nature 481, 10.1038/nature10713 170–172 (2012).
About this article
Cite this article
Renner, R. The fridge gate. Nature 482, 164–165 (2012). https://doi.org/10.1038/482164a
Published:

Issue Date:

DOI: https://doi.org/10.1038/482164a