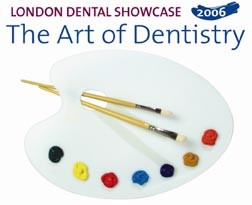 The Art of Dentistry has been adopted as the theme for marketing London Dental Showcase 2006, the UK's premier dental exhibition, taking place at ExCeL London, 5-7 October 2006. The organiser of the show, the British Dental Trade Association explained the decision to use an artistic theme by pointing out the many similarities between art and dentistry. Good dentistry involves a mix of dental professionals, dental skills, knowledge, techniques and dental equipment and materials to achieve the best results in much the same way as an artist requires skill, technique and various tools and accessories to create a painting. The paint palette provides a striking and distinctive image which highlights the important role played by the tools and materials in the end product.
Tony Reed, Executive Director at the BDTA commented, 'The artistic theme for this year's show presents us with a number of opportunities to promote the event in a colourful and effective manner. The many elements that combine to make a successful artwork closely mirror the process of dentistry. There is no better place to view the tools of the dental trade than London Dental Showcase 2006.'
Art is generally about the creation of aesthetically pleasing pictures and the increased trend towards aesthetics in the dental world provides yet another sound reason for adopting the theme.
Keep your eyes peeled for art related Showcase prize draws and activities taking place at the exhibition.
London Dental Showcase 2006
Thursday 5 – Saturday 7 October 2006
Reserve your complimentary entry ticket now by calling the registration hotline on 01494 729959 or visiting www.dentalshowcase.com.
Rights and permissions
To obtain permission to re-use content from this article visit RightsLink.