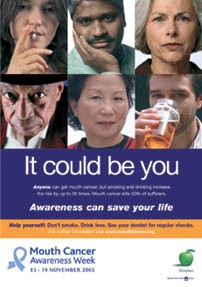 The British Dental Health Foundation is appealing for dentists to help halt the growing number of mouth cancer deaths by educating their patients on the main symptoms and risk factors. The plea for help is being issued in this year's Mouth Cancer Awareness Week. Running between November 13 and 19, the campaign is using the tagline 'It Could Be You' to demonstrate that the condition can strike anyone at any time.
The charity claims that mouth cancer kills one person every five hours in the UK and that the most common causes of mouth cancer are smoking and drinking alcohol to excess.
However, as around 25% of mouth cancer cases in younger people present none of the common risk factors, patients should be taught to be aware of possible symptoms too.
Dr Nigel Carter, chief executive of the British Dental Health Foundation, commented, "According to research by the Foundation, half of people over the age of 45 claims never to have been checked for mouth cancer by a dentist. While this doesn't necessarily mean people are not being checked it does prove that dentists are not making patients aware of it."
He urged dentists to use Mouth Cancer Awareness Week to start making patients aware of the dangers of mouth cancer and as an opportunity to educate them on the risk factors and symptoms of the disease such as smoking, alcohol and poor diet.
Dr Carter continued, "Regular screenings should take place throughout the year, not just during Mouth Cancer Awareness Week."
The free Mouth Cancer Awareness Week guide contains information on the condition, ideas for events and a guide to useful resources.
It also contains details on how to claim your free poster from Denplan. Visit www.mouthcancer.org for more information.
About this article
Cite this article
Raising awareness of mouth cancer. Br Dent J 199, 553 (2005). https://doi.org/10.1038/sj.bdj.4812955
Published:

Issue Date:

DOI: https://doi.org/10.1038/sj.bdj.4812955